We would like to inform you that the one-year anniversary of your OS premium accounts is approaching. As part of our subscription policy, OS premium accounts require an annual renewal to ensure uninterrupted access to their services and features.
To facilitate the renewal process, we have implemented a convenient and straightforward solution. Towards the end of June, you will notice a 'Reactivate' button prominently displayed on your mapping screens. This button will serve as a prompt for you to renew your premium account and continue enjoying the benefits it offers.
Reactivation steps
Step 1) Log into eDofE and navigate to mapping.
Step 2) At this point you will see the 'Reactivate' button, as per the screenshot below.

Step 3) Click on the 'Reactivate' button and you will see the following pop-up message, confirming that your account has been renewed successfully.
You will also notice that the 'Open OS Explore' and 'Get New Maps' buttons have returned.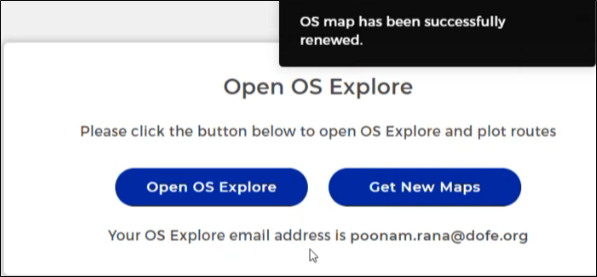 Step 4) You can now continue to use OS mapping as you usually would.