Creating a map:
To create a map, you'll need to go to Mapping > Open OS Explore and the OS Explore site will open in a new tab:
The following map will appear for England, Wales and Scotland: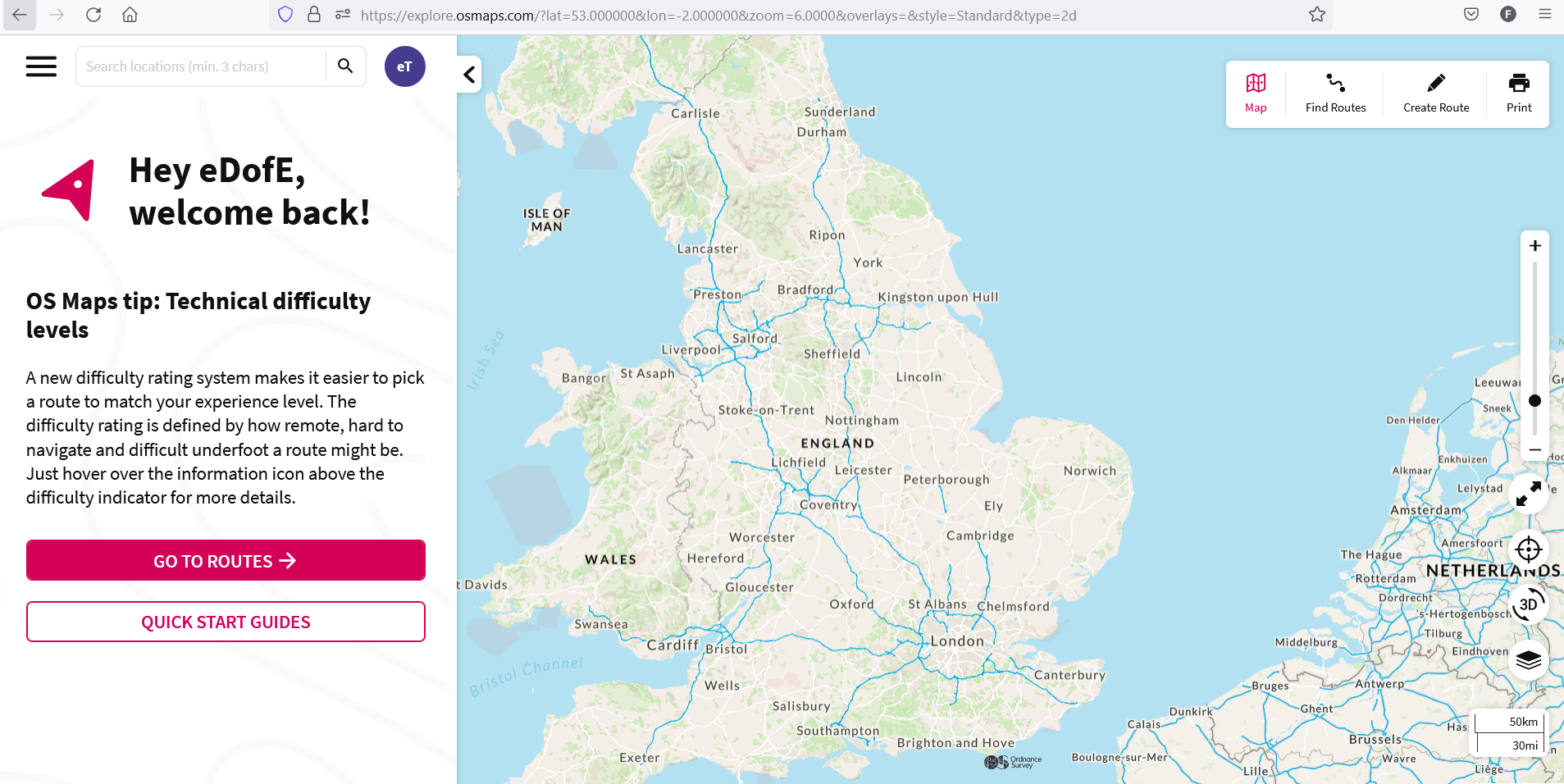 You can change the map type by selecting the map style icon towards the bottom right-hand corner: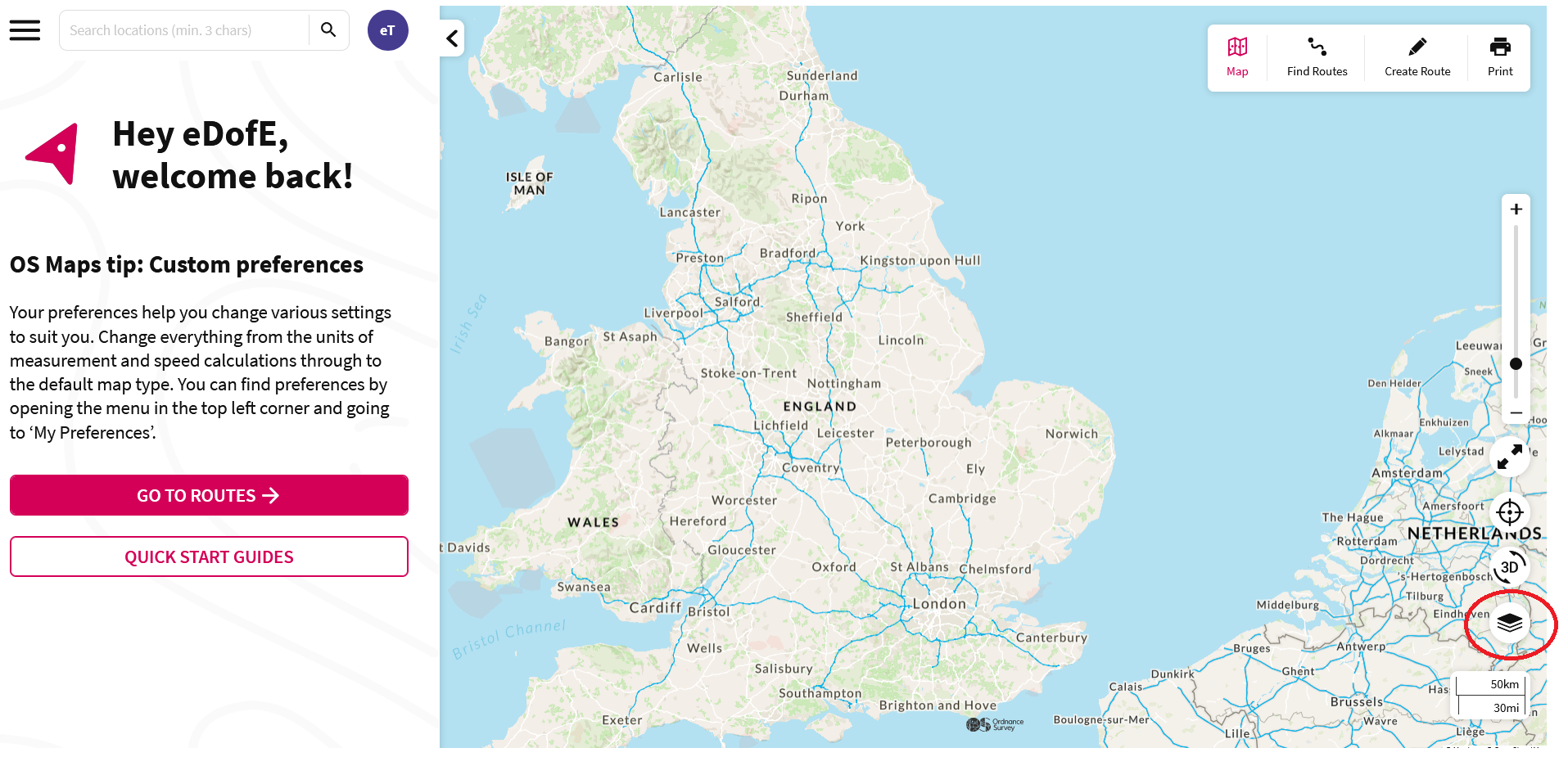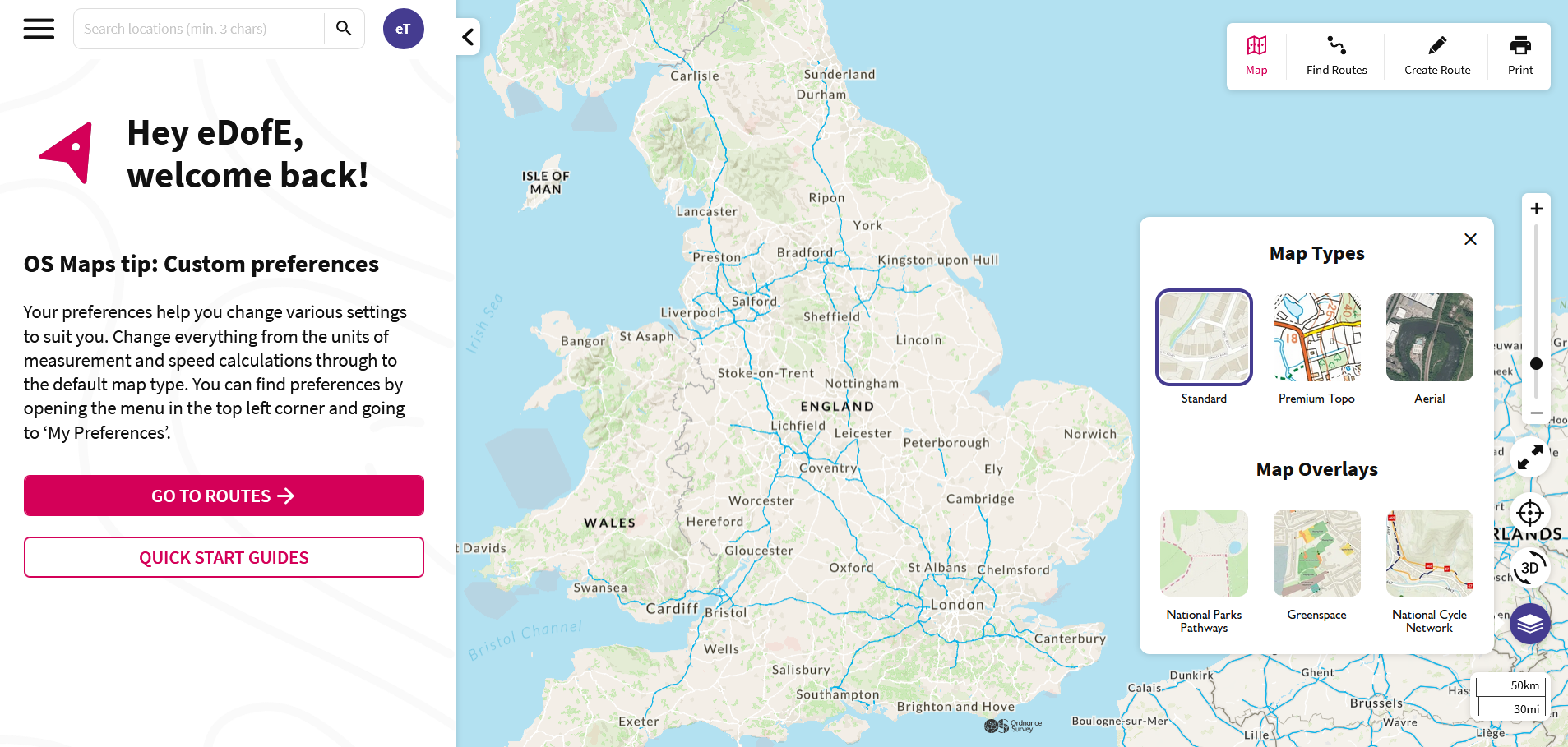 Please ensure that you're logged into your OS Explore account before you start creating your map.
How do I login to my OS Explore account?
The first thing you will need to do is decide on your start point which can be done in two ways:
1. Search for location:
Users in England, Wales & Scotland can add a Place name, Grid reference or a Postcode.
For place names the search tool will suggest matches as you type & if there is no exact match, it will show the next best result. If the suggestions are incorrect you can keep typing to override them.
After you have hit enter or selected a suggestion, the map will move to that location and additional information for that point will be shown. You can now view the details, remove the pin or begin plotting a route from this point by clicking 'Create Route':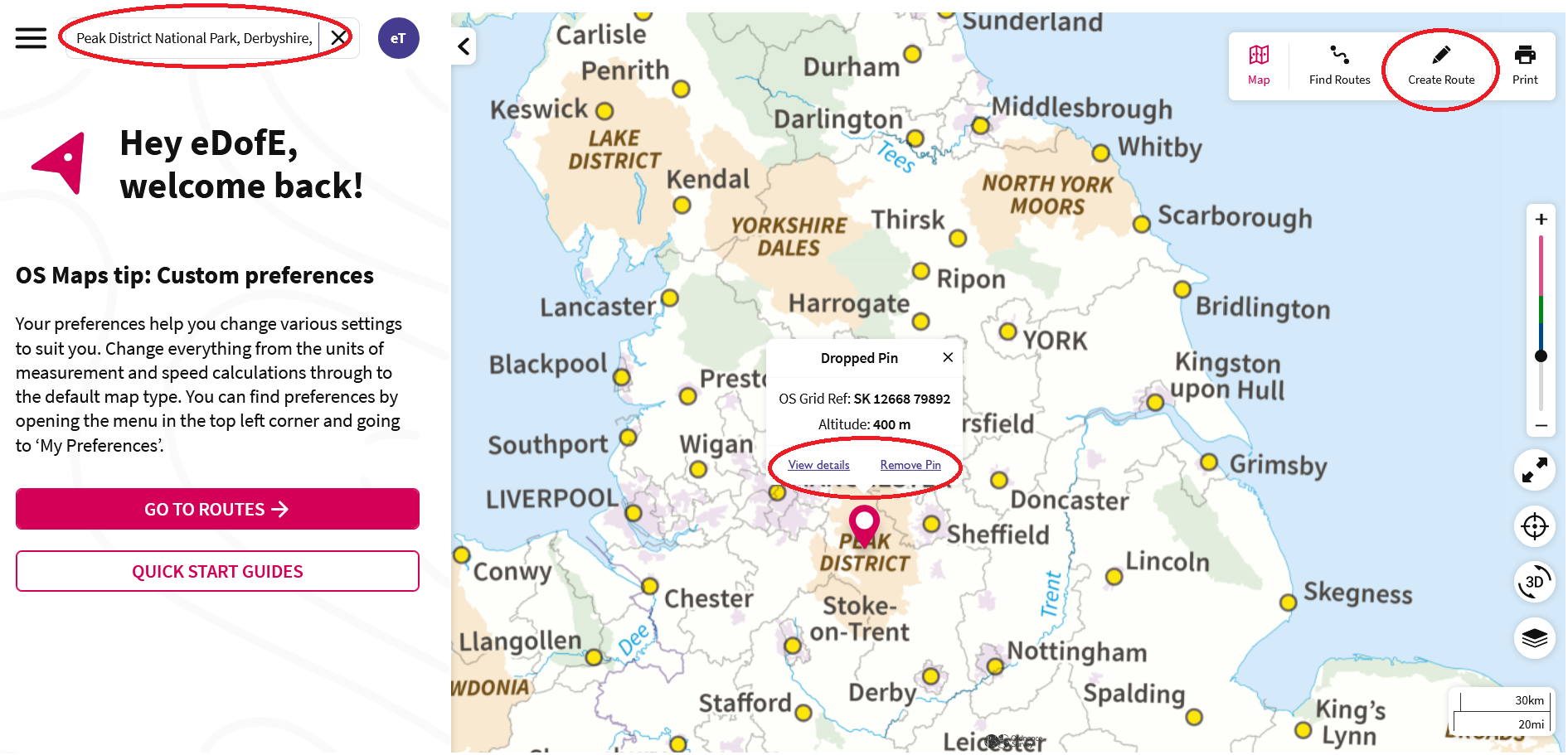 2. Plot a route:
Simply scroll through the map, find your preferred start point & click on it.
Creating a route:
Once you have selected you start point select 'Create Route' on the mapping toolbar: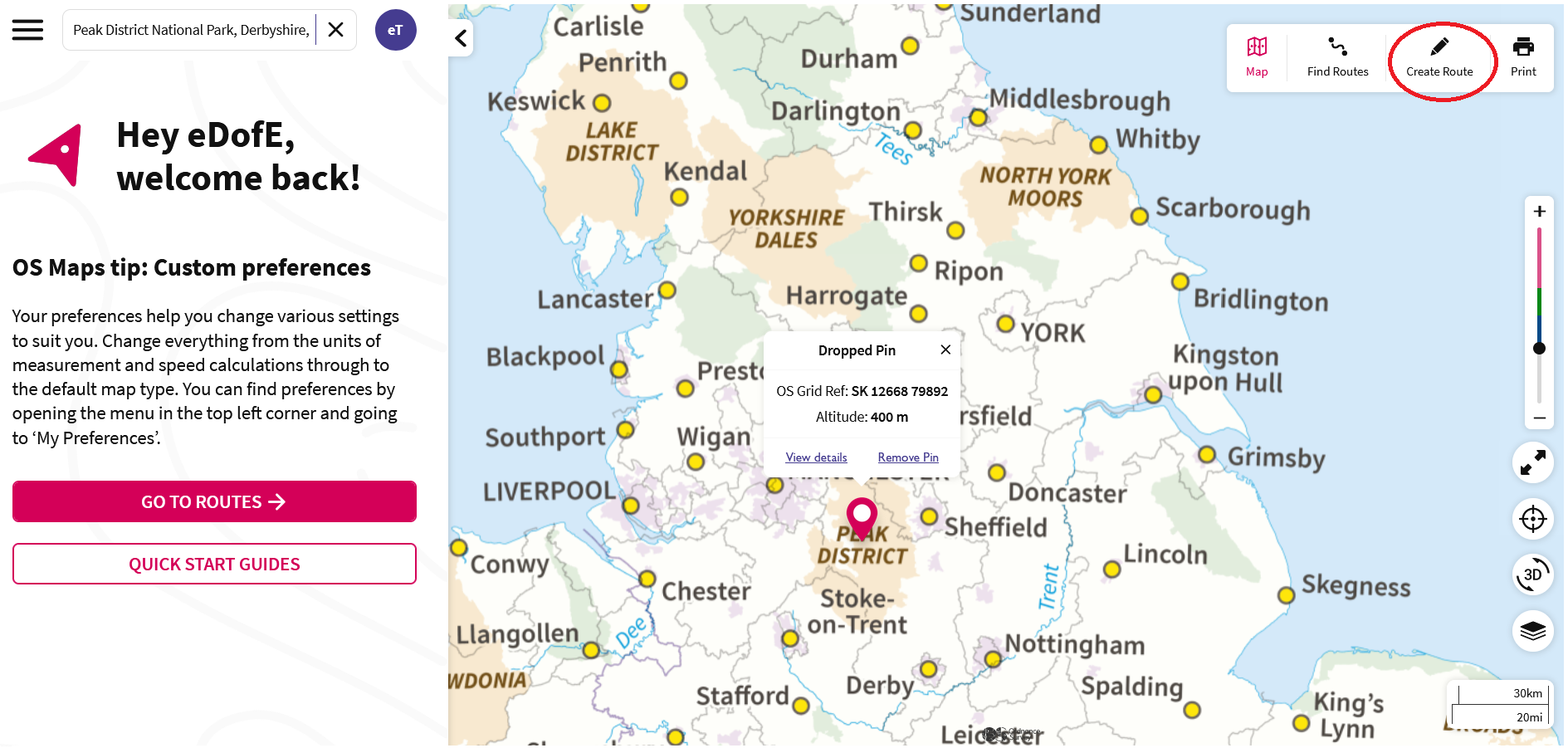 From the left-hand side, you can select your mode of transport and you'll need to give your route a name and description(optional). You can only view the route name and description in OS Explore.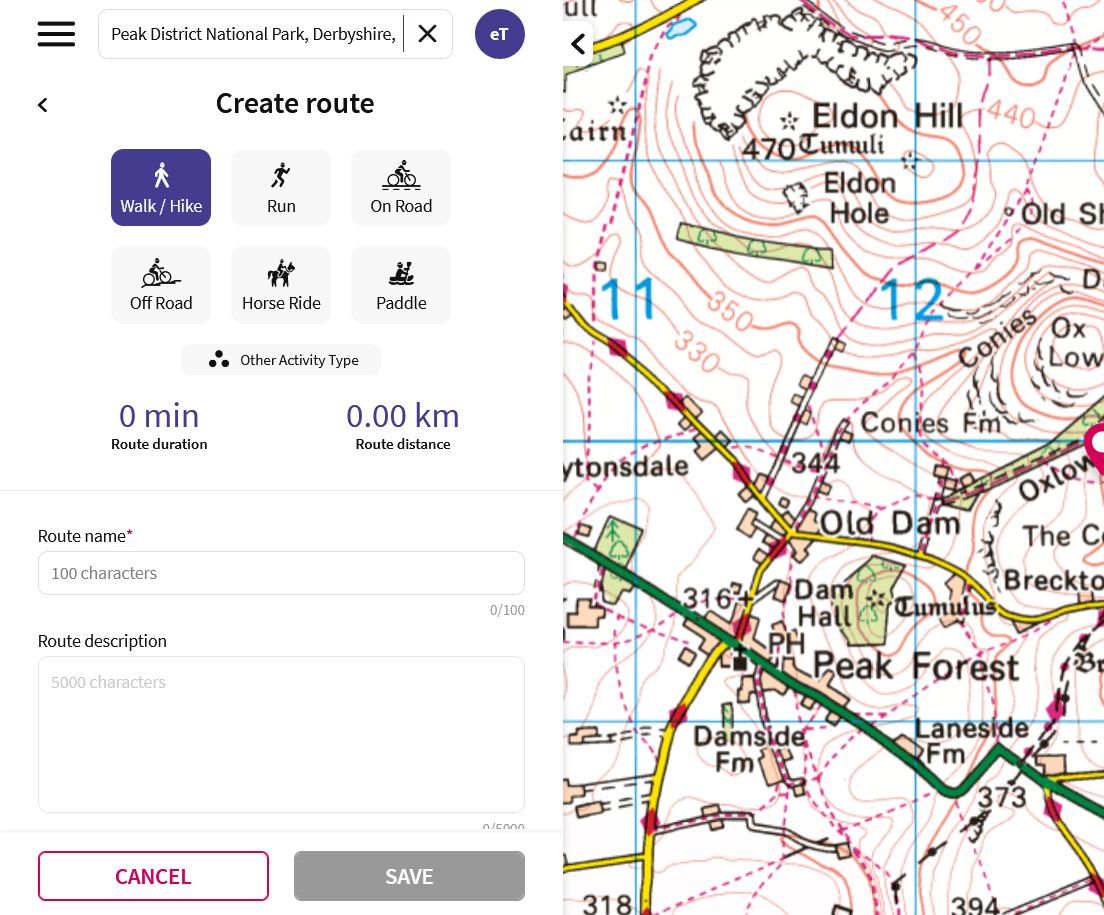 You can scroll down further and select who can view your map and the technical difficulty.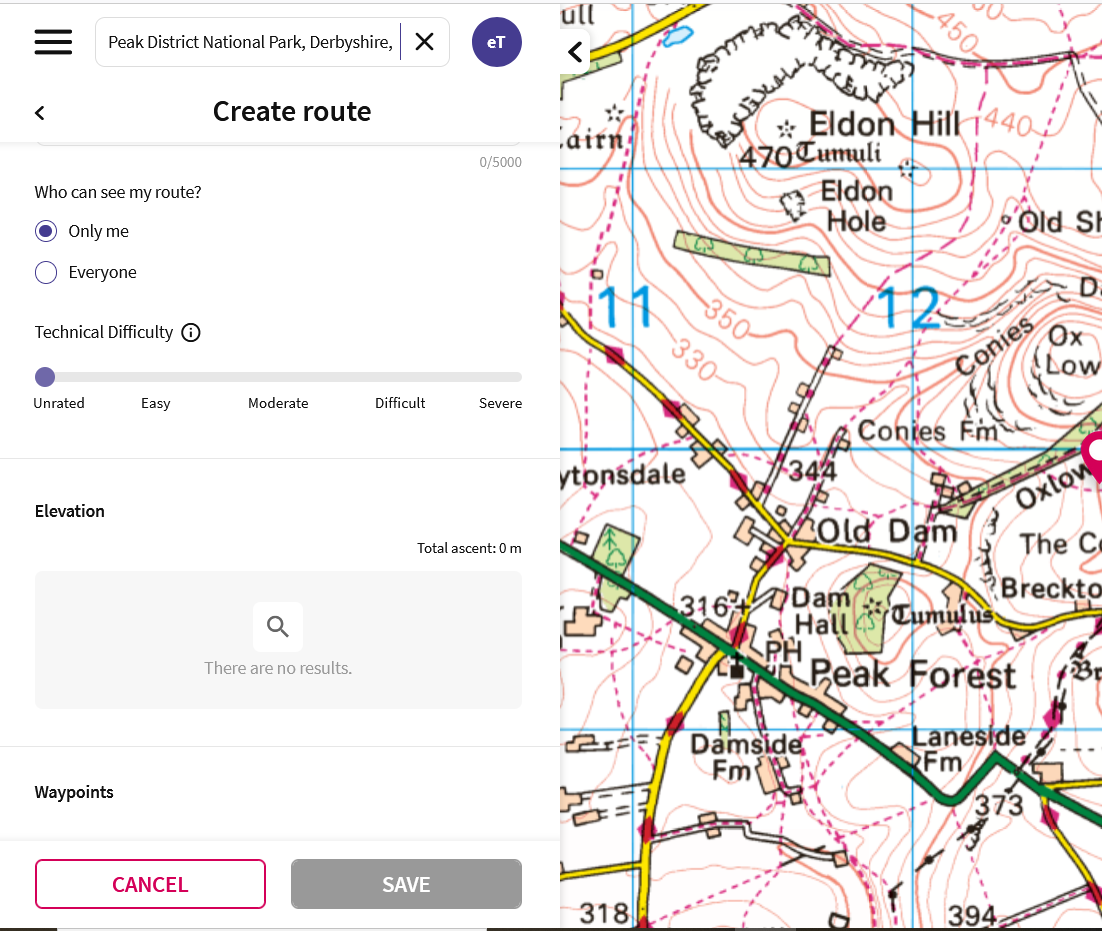 You can now add your start point to the map.
To plot your route, ensure that the 'Plot' tool is selected on the toolbar, then simply 'left click' at your next point. The map will be more accurate if you add a new point each time you change direction.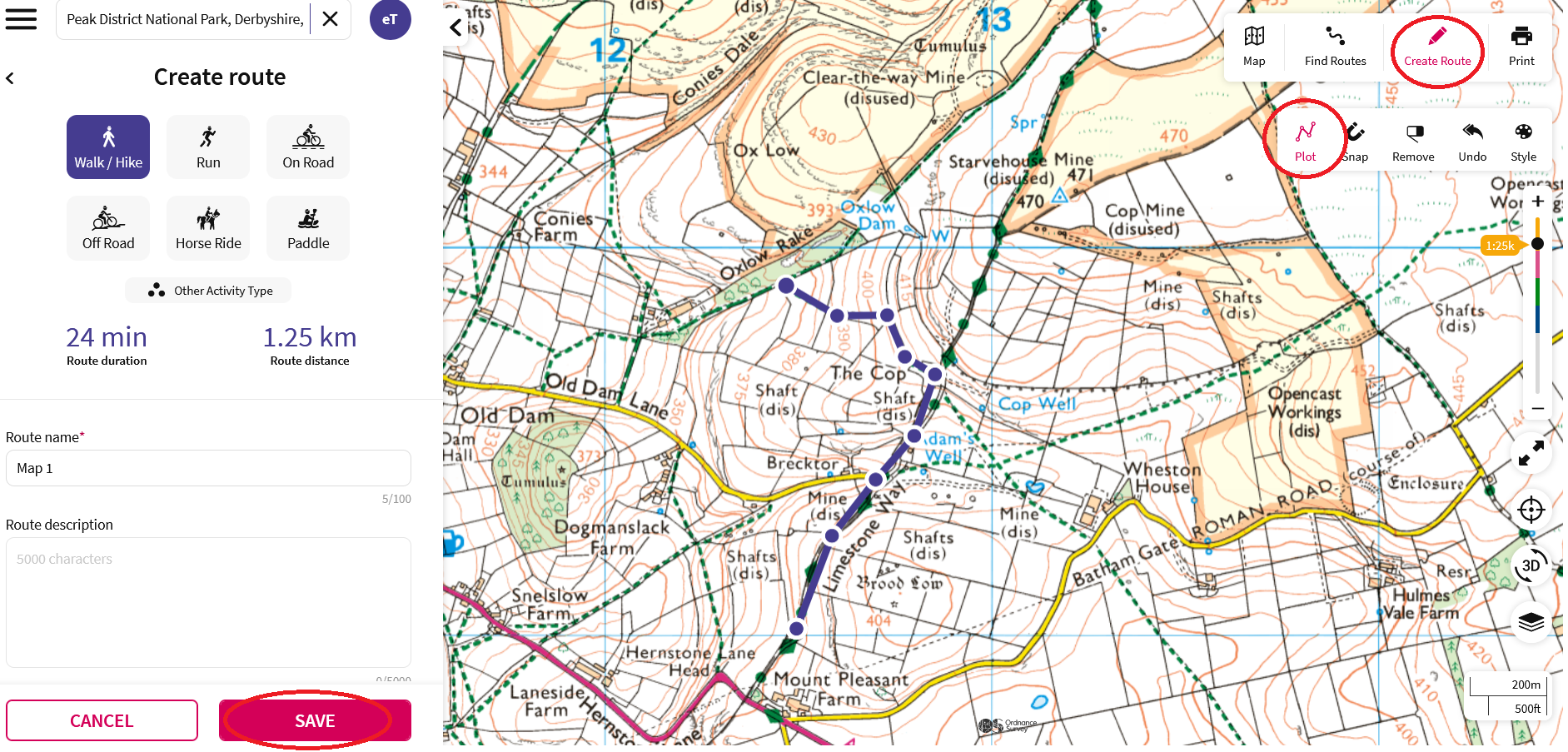 If you're creating your route in a national park, can click the 'Snap' tool to help you plot - this will lock your route to paths, tracks and roads: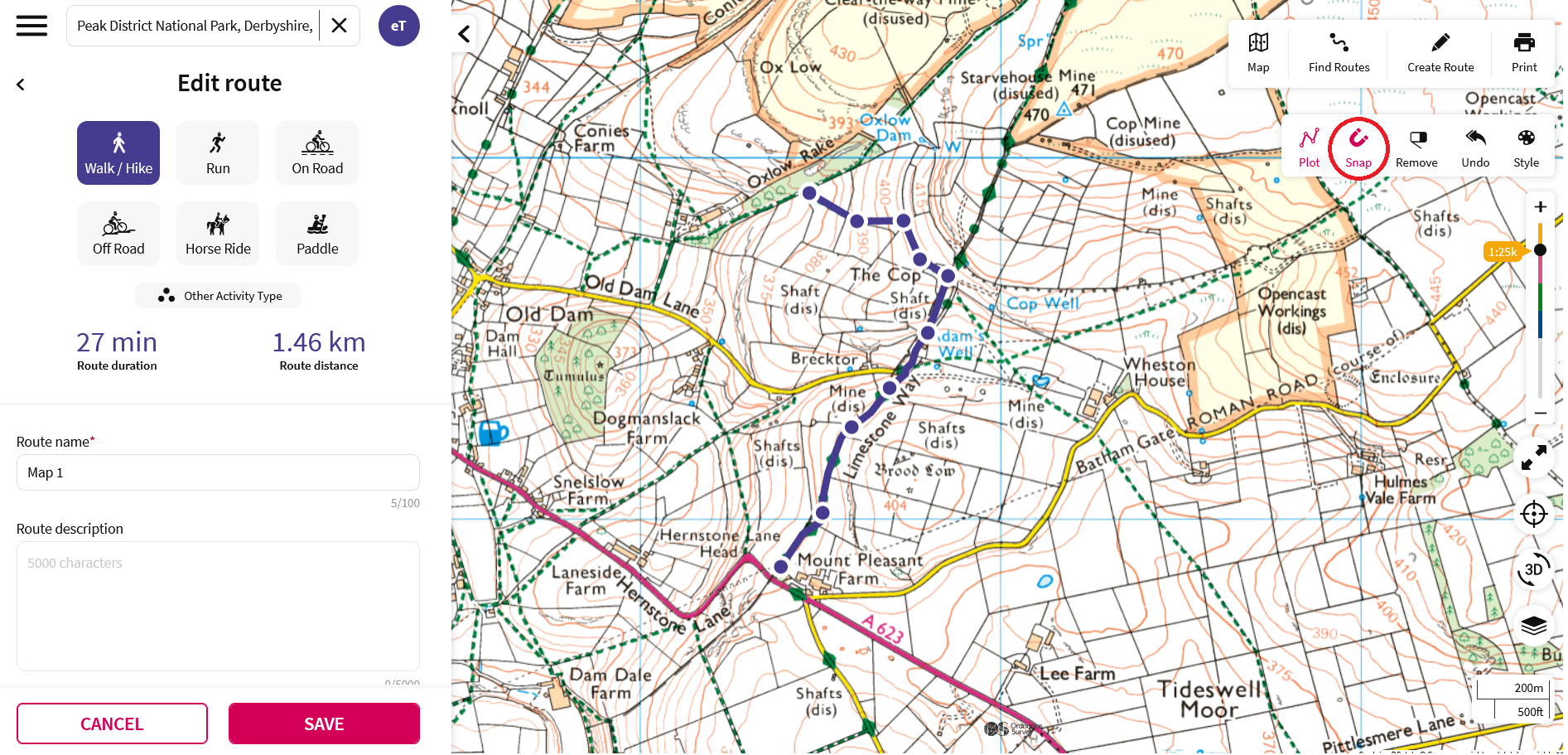 Your map will not auto-save so please save your progress as you go along.
Once you have started adding points to your route you can add in checkpoints which are created by selecting the waypoints from your map. To make your chosen waypoint into a checkpoint, select 'Edit':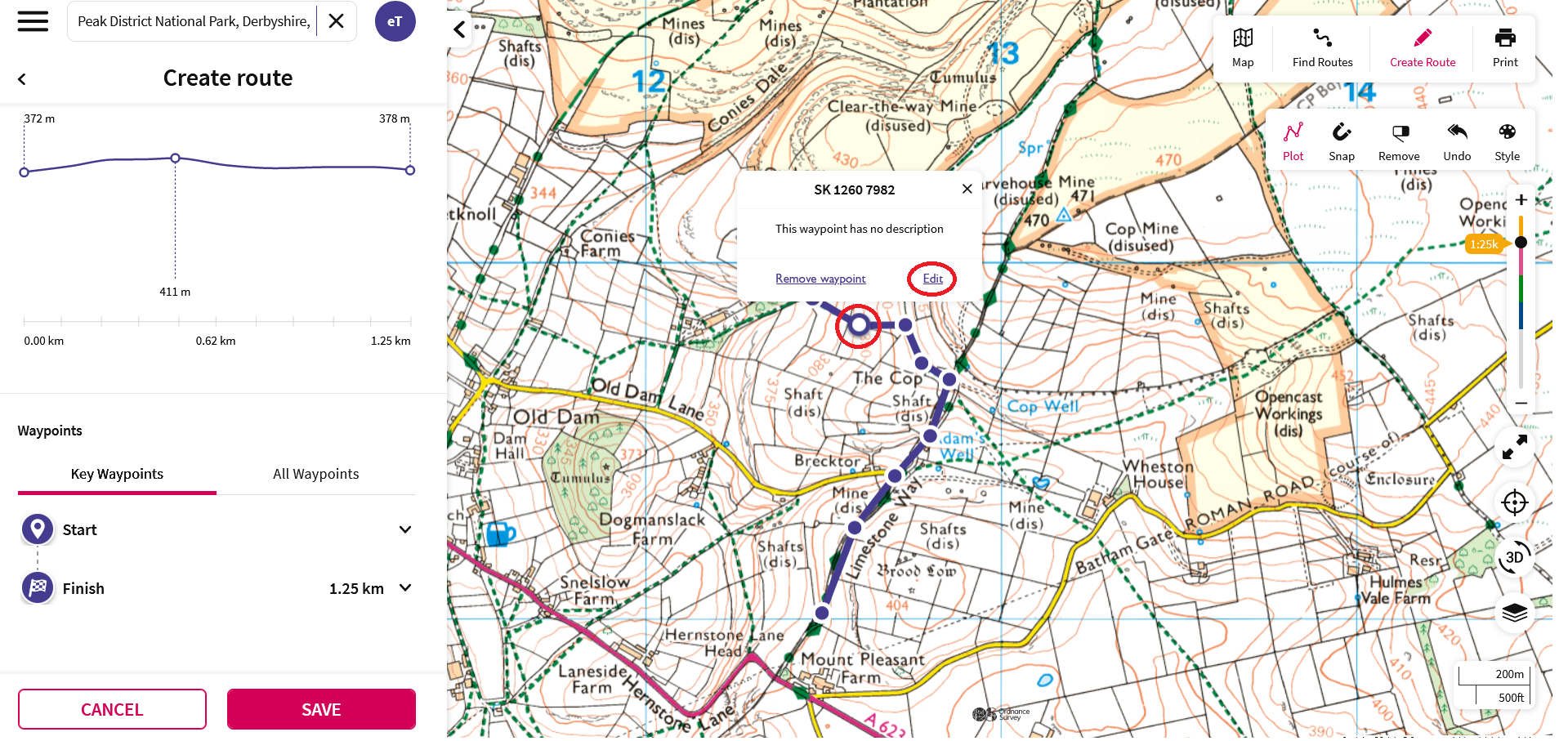 You will need to give your checkpoint a name (for example 'Checkpoint 1') and add in a leg description (this will explain how to get here from your last checkpoint):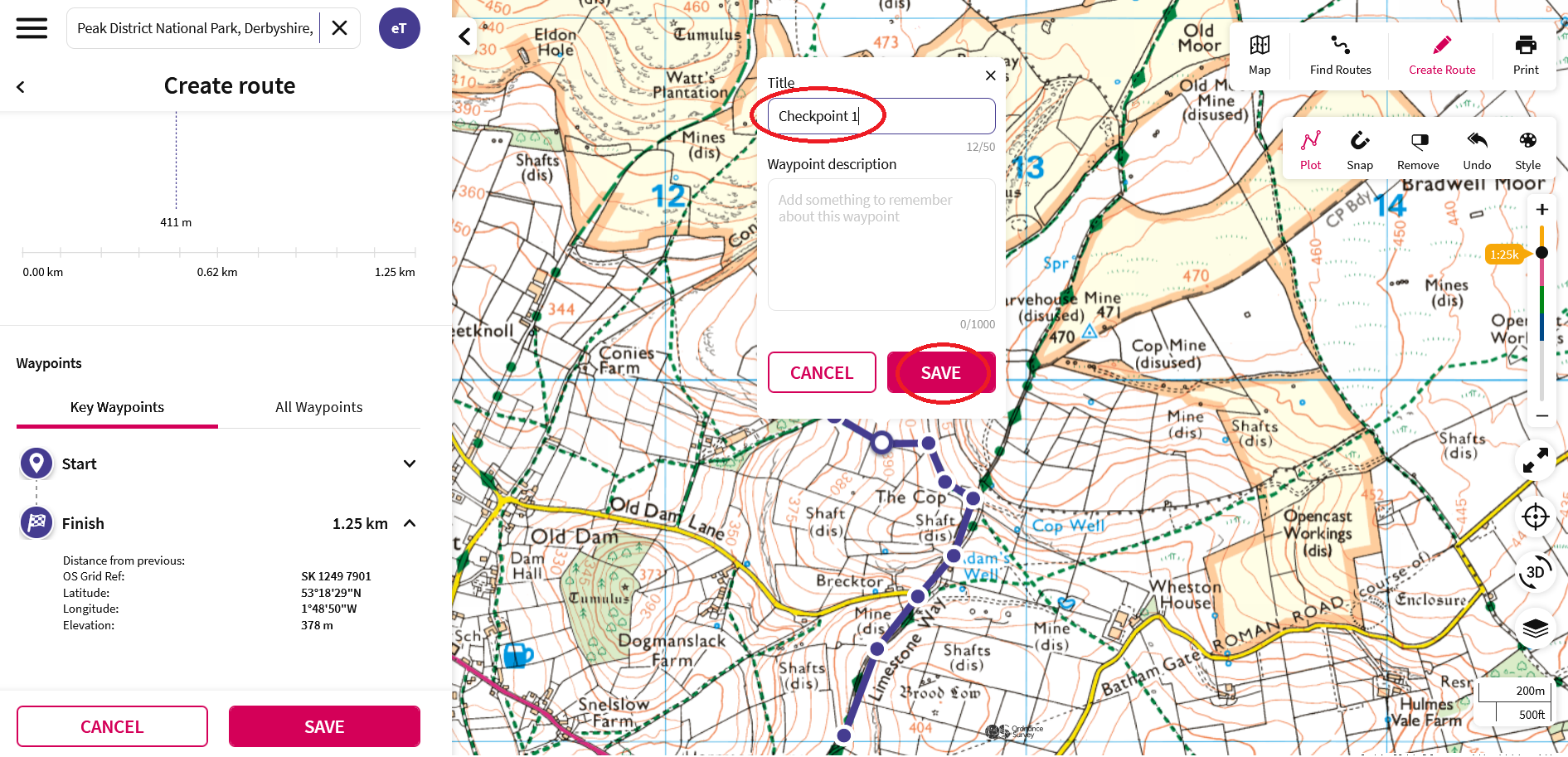 Note: You must add text to the title box otherwise your waypoint will not become a checkpoint. Once you have added the information to the checkpoint and saved, it will show on the 'Route pane' on the left-hand side of the screen under 'Key Waypoints':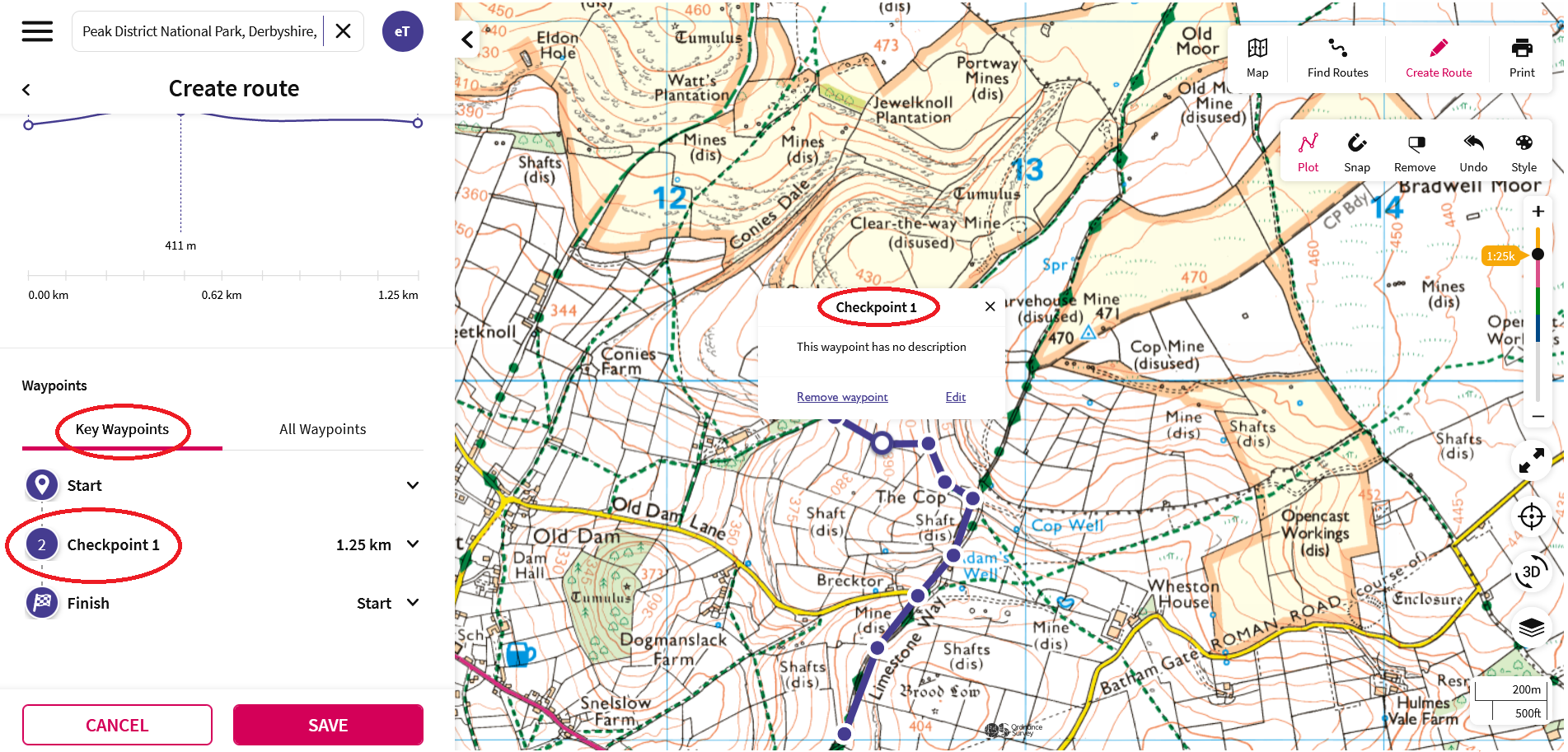 You can view all the waypoints on your map via 'All Waypoints.'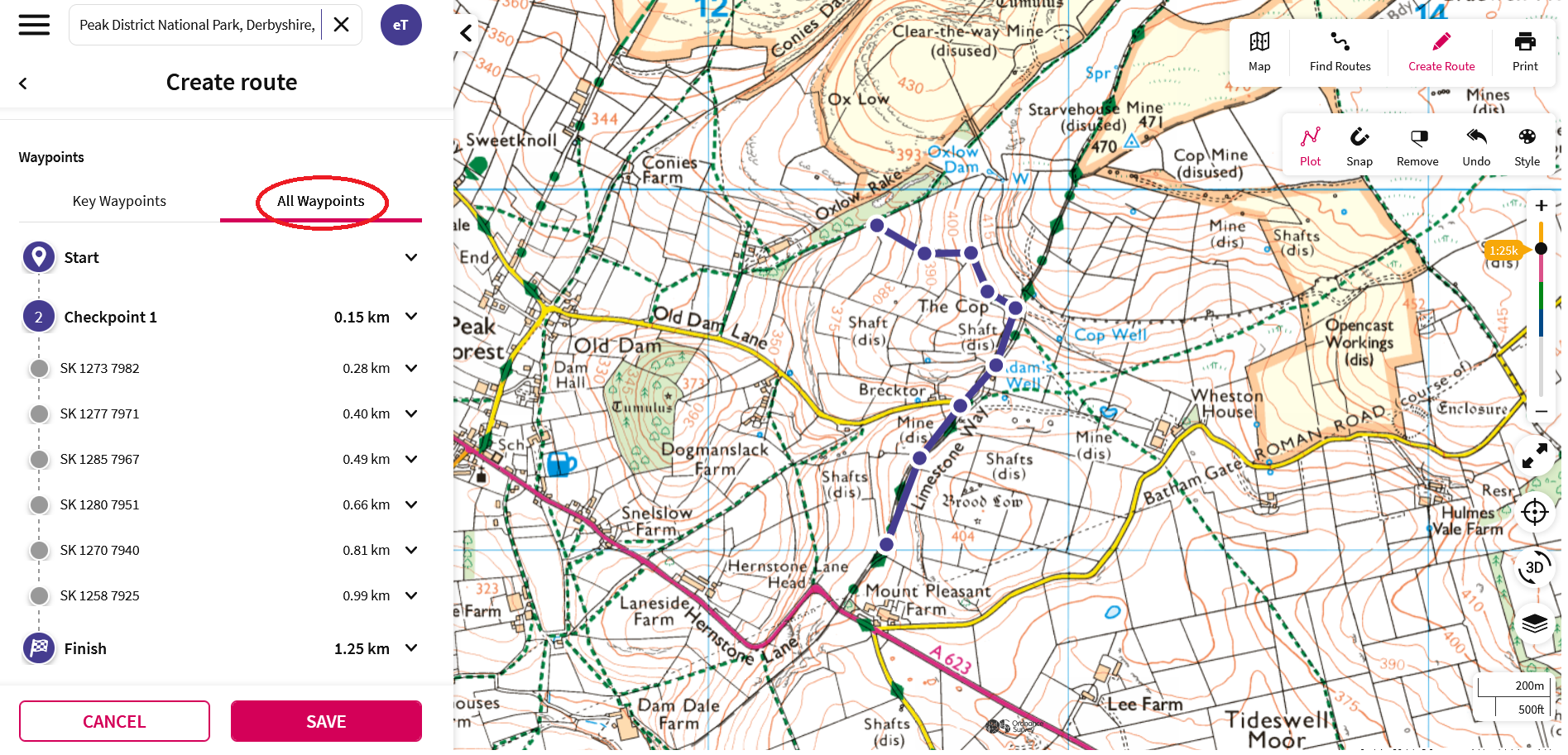 As well as a list of your checkpoints, you can see the estimated time to travel the route, the distance as well as a height profile. You can expand the information for each checkpoint and this will display the leg description, an OS grid reference, Latitude, and Longitude as well as the elevation of the point: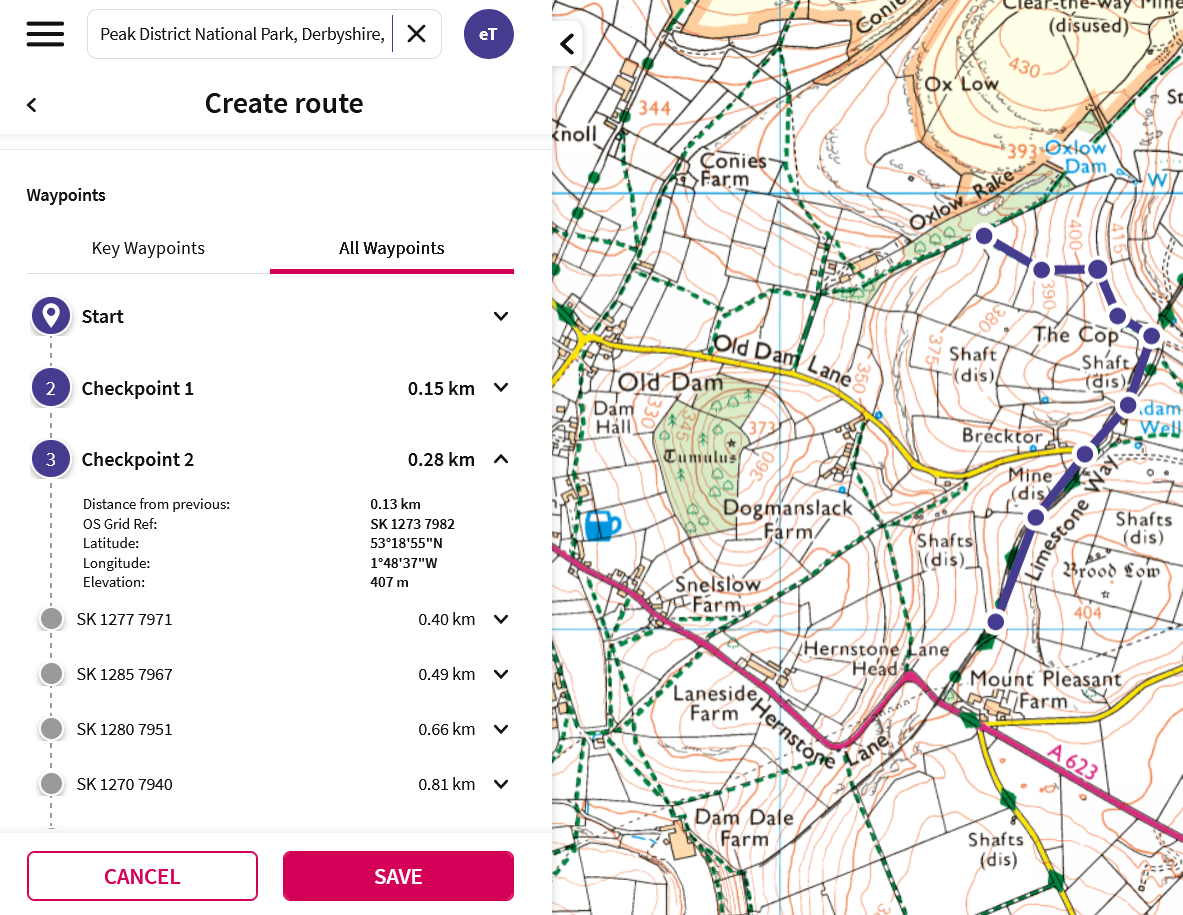 Whilst plotting your route you can simply click and move any point on the map to reposition if required. You can use the 'Undo' button if you are not happy with your previous action and delete a point by selecting the 'Remove' link from the left-hand menu and then select the point that you would like to remove. Please remember to re-select the 'Plot' tool to continue creating your map: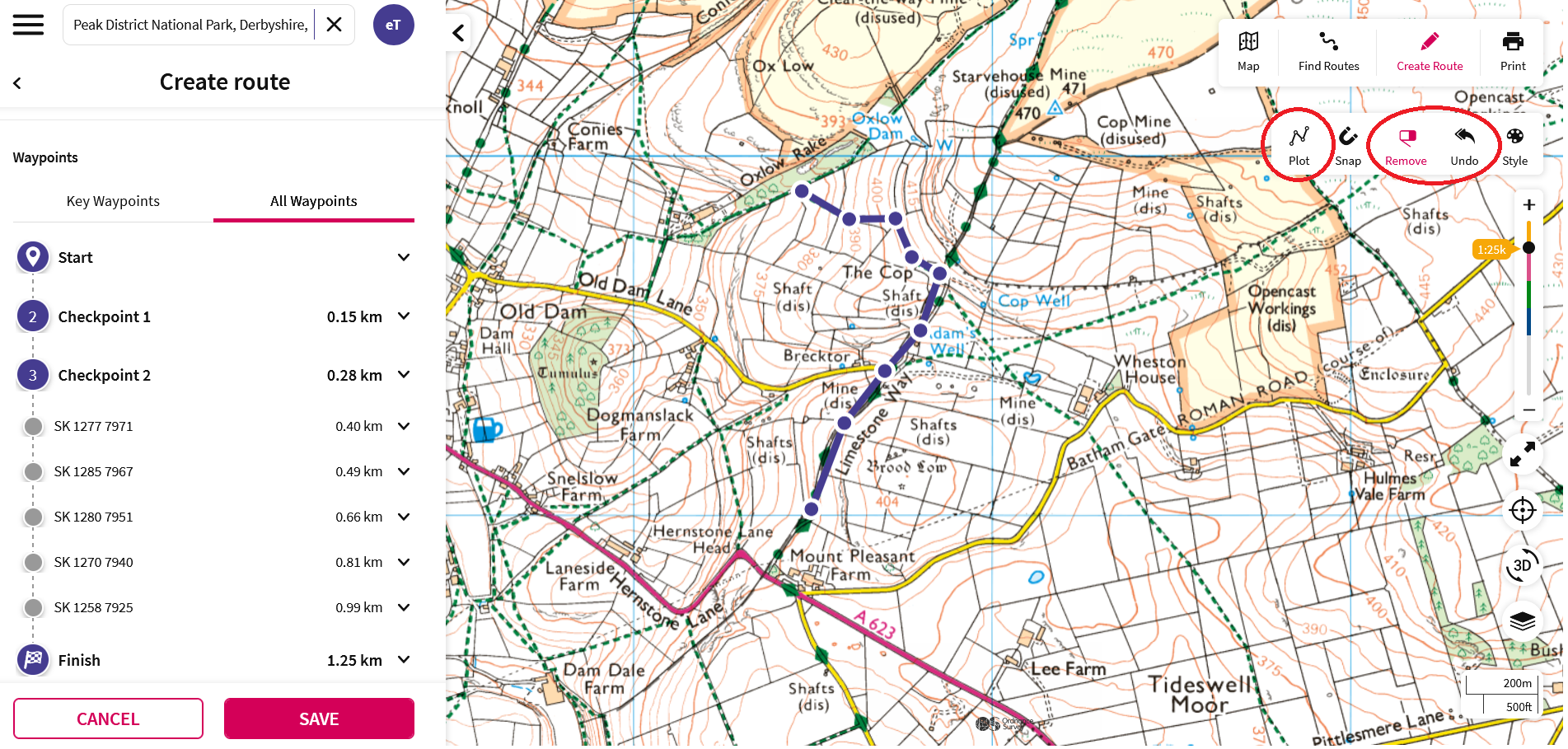 You can customize the colouring and transparency of your route by using the 'Style' tool. Using this you can specify what colour you would like your route to be, the thickness of it as well as the transparency. This helps to ensure that you do not obscure any key important details on your map: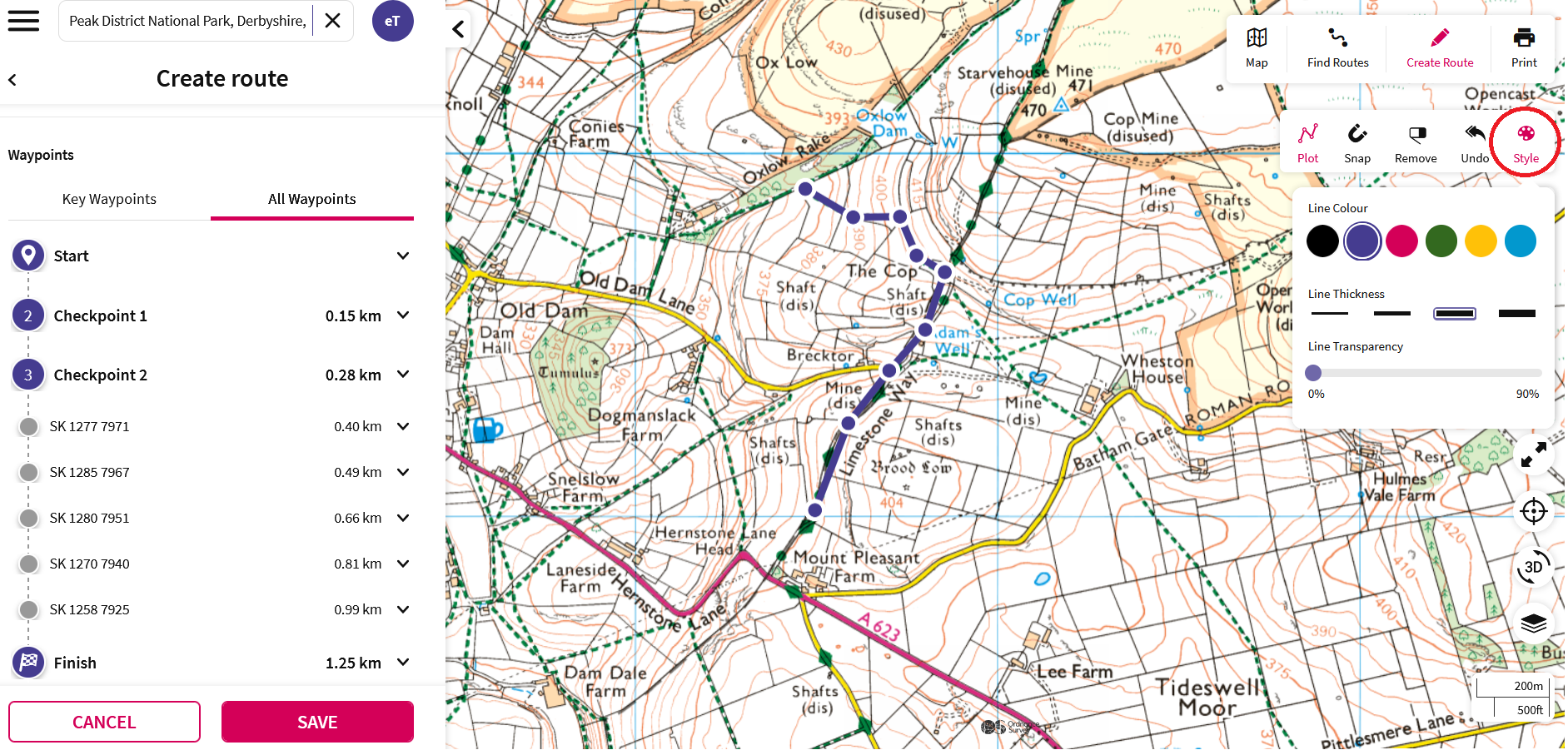 Once you're happy, click 'Save' to save the progress of your map.
Should you have any issues, please don't hesitate to email us at edofe@dofe.org