Assessors can submit an assessor's report via the Assessor's Report portal
In order to use the Assessor's Report portal you will need to know the following information:
The participant's ID Number - this is a unique number that each participant is given.
The DofE level that they are completing - Bronze, Silver or Gold
The section that you are assessing for them - Volunteering, Physical, Skill, Expedition and/or Residential (this is for Gold only)
Once you have entered the participant ID, level and section you are assessing, you will need to complete the reCAPTCHA permission by clicking on the 'I'm not a robot' box. You will then be able to select the 'CHECK' box:

If a 'Section already approved' message appears, that means the section you have selected has already been approved - double check the participant's ID number/Award level/Section: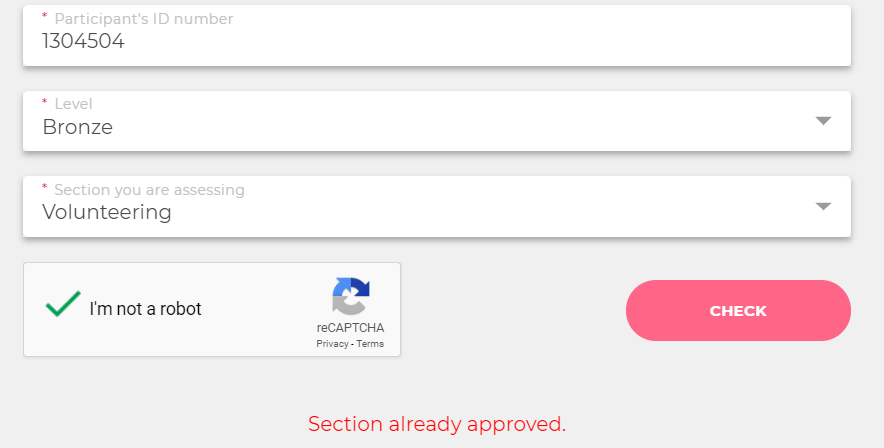 The next screen will show the Participant's name/Activity/Dates/Goals. If the name displayed isn't the right person, please ask the DofE participant to check their ID number: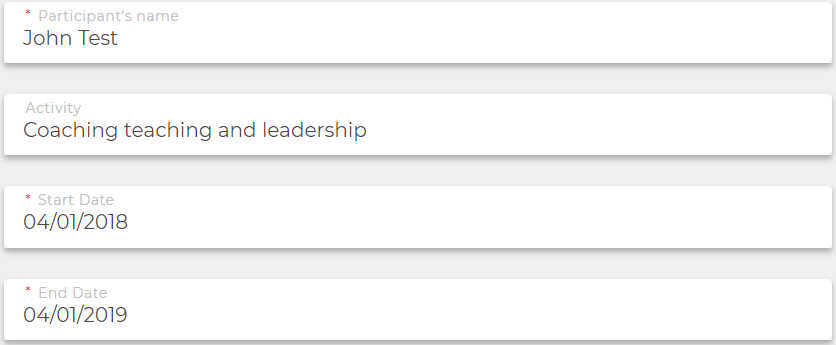 If the dates are incorrect, please amend them.
You can now add your report details to each section:




Followed by your own details: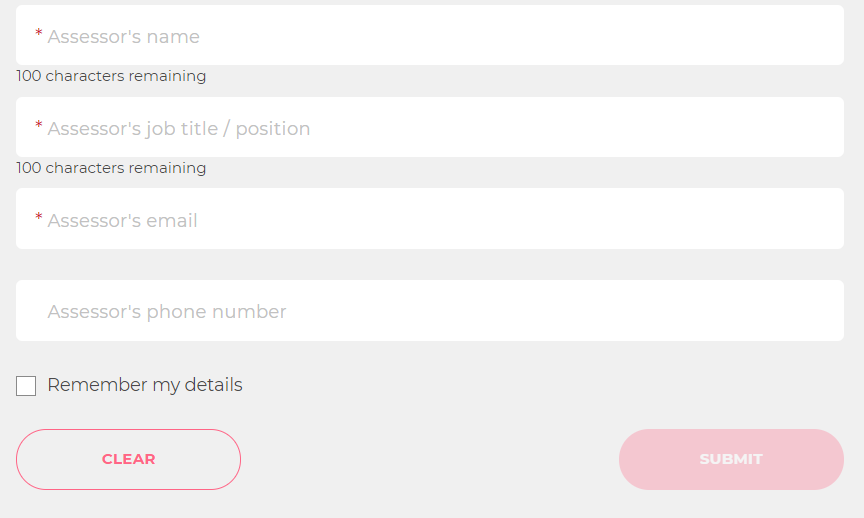 Once you have completed all the mandatory fields, the 'SUBMIT' button will be activated at the bottom of the page.
A confirmation message will appear briefly on the screen and a confirmation email will get sent to the email address you provided:

Reasons why your report won't submit:
A mandatory field hasn't been filled in
There is text or a character on the phone number section
There is a space on the email section
The assessor job title is too long
All assessor reports submitted via the portal are now automatically checked against a safeguarding system. Reports that are not flagged by the system are sent to the participant's account and are visible immediately. Reports that are flagged are held for review and can take up to 72 hours to be visible on the participant's account. We ask for your email address and phone number to enable their DofE Leader to contact you should they wish to discuss your assessment with you and so we can send you a copy of the report you submit.
For more information on filling in the individual sections please click on the links below:
Should you have any issues, please don't hesitate to email us at edofe@dofe.org