This FAQ has many of the answers you may need to use eDofE training; please contact eDofE@dofe.org with any further questions.
What is eDofE training?
eDofE training is an online method for managing adult DofE training information (e.g. MTF course information, course delegates, Course Directors and Tutors). The system has seven main features (those marked with * are permission-based so you will only see them if you have been given access to them).
The 'Training Search'* allows you to look for adult training records, within your location
'Manage courses'* allows you to search for training courses and to add/edit courses
'Training alerts'* shows Tutor/Director applications, submitted courses and delegate applications awaiting approval. All require an action by the DofE Office. LO users will see the course applications awaiting their approval
'e-Learning' can be completed through eDofE and the results automatically recorded on an eDofE record
'Course payment': DofE-run courses have an online payment option
'My training': shows e-learning completions, numbers of courses run and Tutor/Director settings
'My Expedition Assessor Accreditation': has been updated to show your assessor accreditation details and process. This has replaced the EAAS paper forms and accreditation can be completed through your eDofE account.
Using eDofE Training
1. How do I search for an adult?
You can search for an adult via Training > Training Search. You can search by location, name, eDofE ID number, accreditation number, or search for all expired Assessors within your location. Adults returned will include: active adults in your location, archived adults with training or accreditation information, adults who have attended a training course in your location or Assessors who are currently affiliated to your location.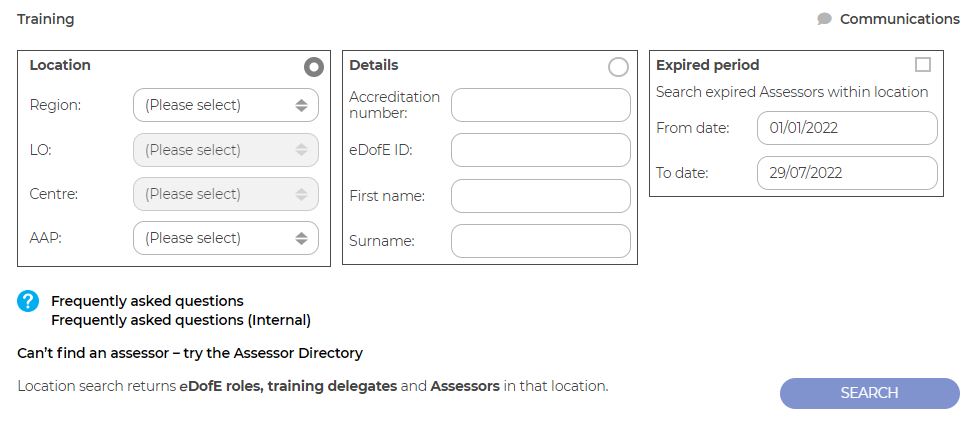 Additional filters can be applied to the Search results to show Tutors, Directors, Accredited Assessors and those due for re-accreditation, using the tick boxes.

2. What do the different underlined bits mean when I do a search?

Adults with training recorded will have their name in bold underlined text. Adults without training recorded will have their name in non-bold underlined text. Click this link to add training.
3. How do you create a course delegate?
Use the 'Add delegate' button in a course page. This will add the course to their eDofE account, if they have one, or create a new eDofE delegate account for the individual. This does not give them an eDofE role, but let's them see the course information, eDofE mapping and some DofE resources.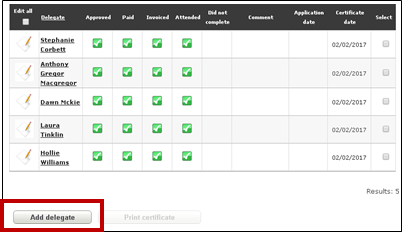 4. How do I set up a course?
Use the Add/Edit Course page to create the course information (e.g. venue, date, joining instructions).
MTF courses need to be approved by a DofE Office (see 7 below).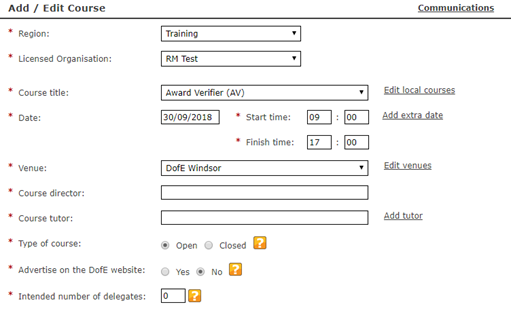 Use the delegates section to manage delegates – e.g. marking the attendance, payment and completion options.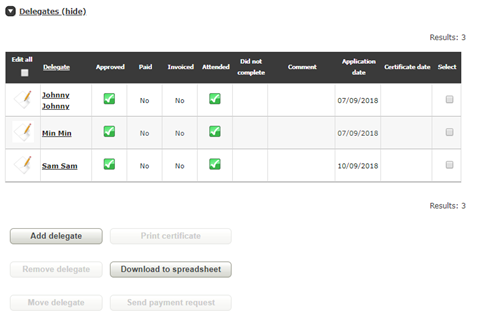 The 'comment' box (usually used to record additional information about the delegate – e.g. vegetarian) is viewable by the delegate on their My Training page.
Training Alerts
5. What are the training alerts?
These will alert you to new actions related to training courses/accreditation requests within your hierarchy, if you have permission. DofE Managers and Administrators will see alerts for delegates that have applied to attend a course being run by the parent LO and assessors that have requested accreditation. If you click the link, you will be directed to the course and can approve or reject the application and approve/reject the assessors accreditation request.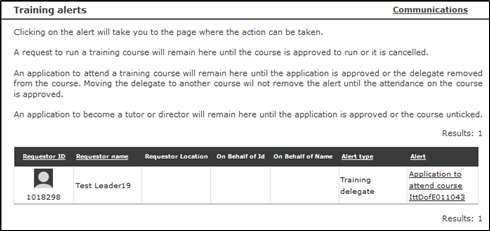 6. How are Course Director/Tutor Applications approved?
Potential Course Directors/Tutors normally apply via their LO (who apply on their behalf) and need to gain approval from a DofE Office. Applications for Course Director or Tutor status can be made via the training search page, first selecting the 'Tutor/Director' column.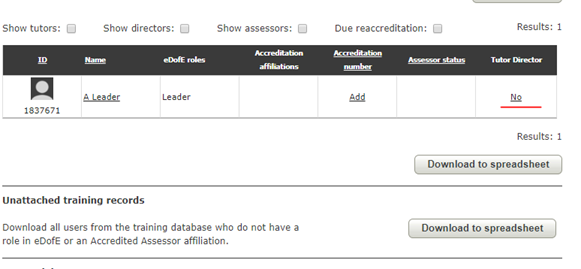 Select the course and Tutor/Director status and press 'Apply'. The DofE Office will receive an alert and will request further information.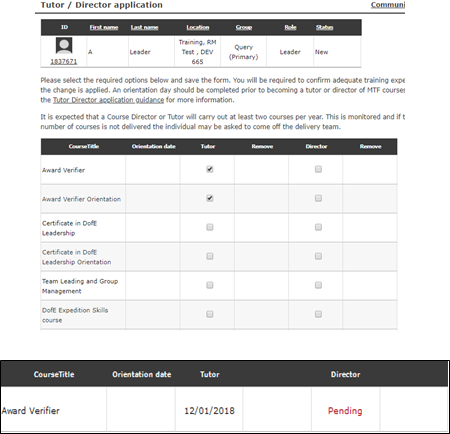 The Course Director/Tutor screen has a section for uploading supporting documentation (e.g. the MTF/2 form), which can be approved by the LO and then submitted to the DofE Office.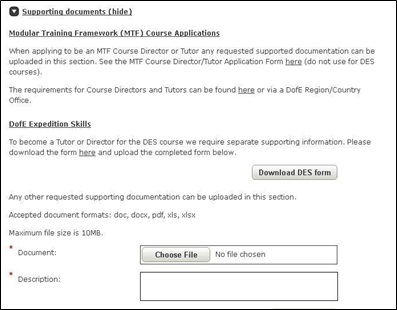 MTF course details, once complete, will remain as 'pending' until a DofE Region/Country Office has approved the course.
Any Course Director or Tutor can be selected, but they will be notified to get their approval.
Once a course is approved you will receive a link to an online application form for the course which you can then forward on to delegates so they can apply online to save you having to enter their details. If you have chosen to advertise the course on the DofE website then the link to the application form will be publicly available.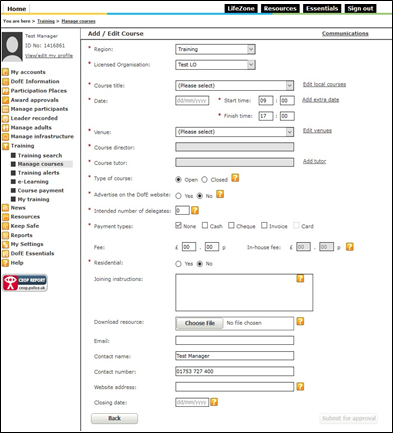 MTF courses can then be approved by a DofE Region/Country Office. Reapproval may be required if subsequent edits are made to the course details.
7. What is the Course Application Process?
Delegates apply to attend a course via the course details page on the Opportunities Finder. Delegates either login to eDofE or register to complete their application. A follow up email will be sent to confirm the login details. The Course Administrator will then approve or reject the application.
8. How do MTF delegates receive approval to attend a course?
When applying for a course, delegates will not receive confirmation of a place until they have been approved. Approval is recorded in the delegate section of the course details page; delegates then receive a confirmation email with login details to eDofE. This does not give them a role in eDofE and they cannot access participant information.

e-learning
9. How does the e-learning option work?
The DofE's e-learning modules are all now hosted within eDofE. The results are automatically saved to an individual's eDofE record, if you are logged into eDofE. Users need to log in or sign up when starting a Module.
Course Payment
10. How does the course payment feature work?
Delegates on DofE-run courses only, have the option to pay for their attendance vie eDofE. Payment options include by credit/debit card, cash, cheque or via a request for an invoice.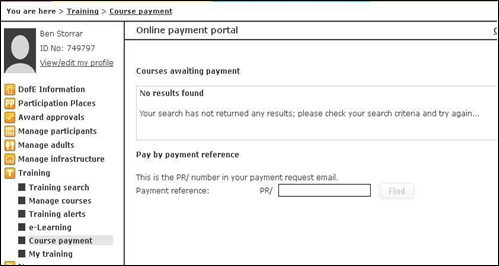 My Training
11. What is 'My Training'?
All eDofE users have a 'My training' section on their profile. We've added your training information, including all MTF courses attended, e-learning completed and MTF course run.
You can view this information for any adult you have permission to see.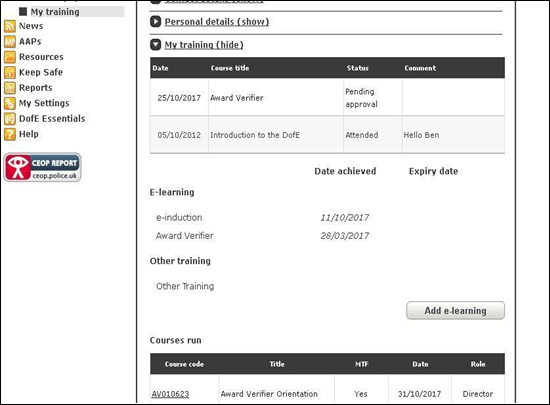 My Expedition Assessor Accreditation
12. What is 'My Expedition Assessor Accreditation
You can view your assessor accreditation record via 'Training > My Expedition Assessor Accreditation' or via 'View/edit my profile > My Expedition Assessor Accreditation'. To become accredited, you must complete all the accreditation steps: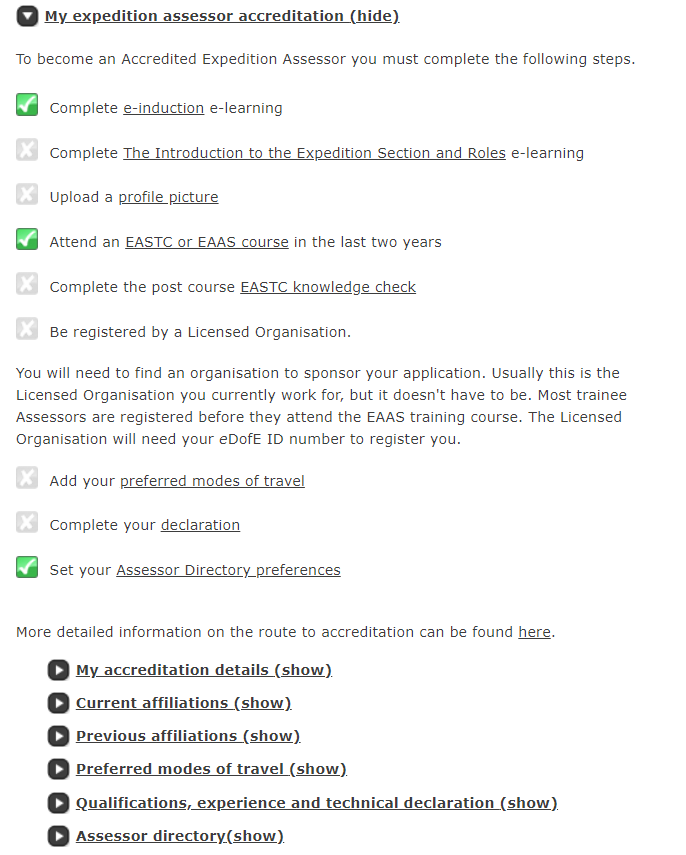 Once accredited, assessors have the ability to:
Update their contact details
Access OS Mapping
View their accreditation and affiliation details
End their affiliations
Request re-accreditation
Should you have any issues, please don't hesitate to email us at accreditation@dofe.org