Adults with the 'Can view assessor accreditation details' permission on their account can view an assessors accreditation details via Training > Training search. You can search by Location, Details (Accreditation no., eDofE ID no. and name) or by Expired Period to search for all expired assessors within your location.
Location search will return any individuals with an eDofE role account in your LO/AAP and current affiliated Assessors and training delegates. You can choose which levels you want to view from by using the Centre filter. Using (All) will return the most results.
Details search allows you to find users outside of your Location by using the Accreditation Number or eDofE ID number searches - you will not be able to search for a user outside of your location using the Name searches.
If you have a large number of accounts in a certain location, or returned from a search, you will not be able to view them all on eDofE, but you can Download to spreadsheet. This will provide you with all the information relating to those accounts. It will not show you any outstanding register/reregister/approve/reapprove actions.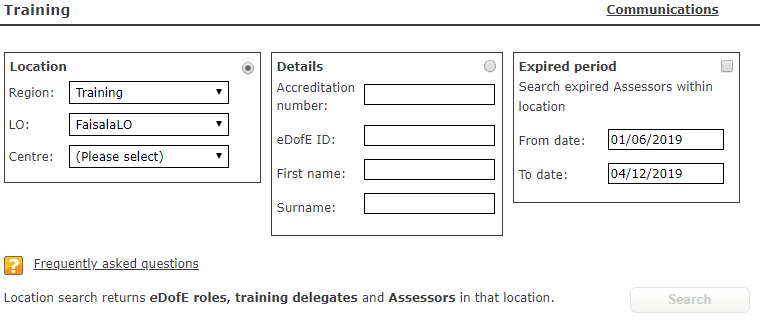 A current active assessor is one with an accreditation number, a future accreditation expiry date and is not marked as 'Inactive' for any reason. You can view the assessors accreditation details by selecting their accreditation number.

From here you can view their contact details, affiliations, qualifications, experience and technical declaration and their accreditation.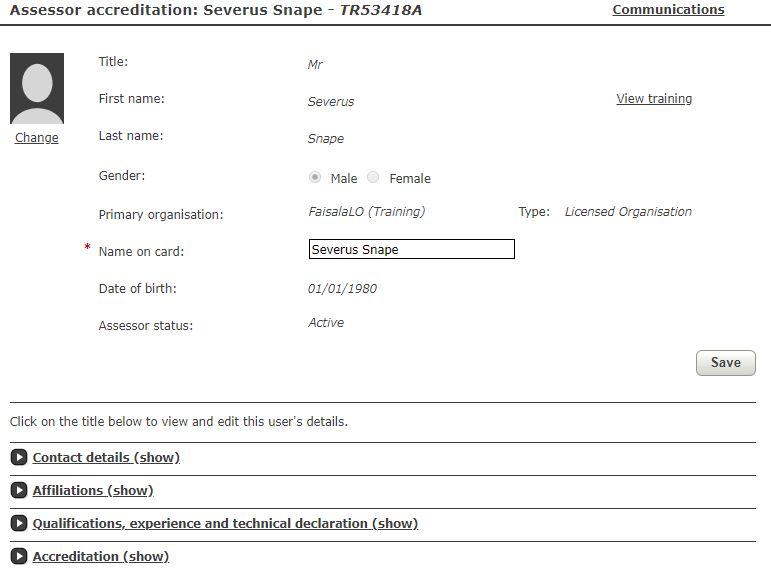 If the assessor is not currently affiliated to your location then the accreditation number (e.g. HO53748A) is not a hyperlink:

Should you have any issues, please don't hesitate to email us at accreditation@dofe.org