From 30/03/2021, a new function has been introduced for adult eDofE account holders to reset their participants' passwords.
1. Who can reset participants' passwords?
Head Office staff, Regional Administrators, Managers, Administrators, Centre co-ordinators and Leaders. Helpers and AAP account holders do not have this functionality.
Head Office staff, Regional Administrators and Managers will automatically have this permission on their accounts.
2. Which permission is required?
The account holder must have "Can reset participant password" permission on their account:

3. Where can I reset the password?
You would need to open the participant's 'My profile' page and select 'Account details'.
The password needs to have 1 upper and 1 lower case letter, 1 number & 6 or more characters.
Once you're happy with the password you can save it & pass it on to the participant.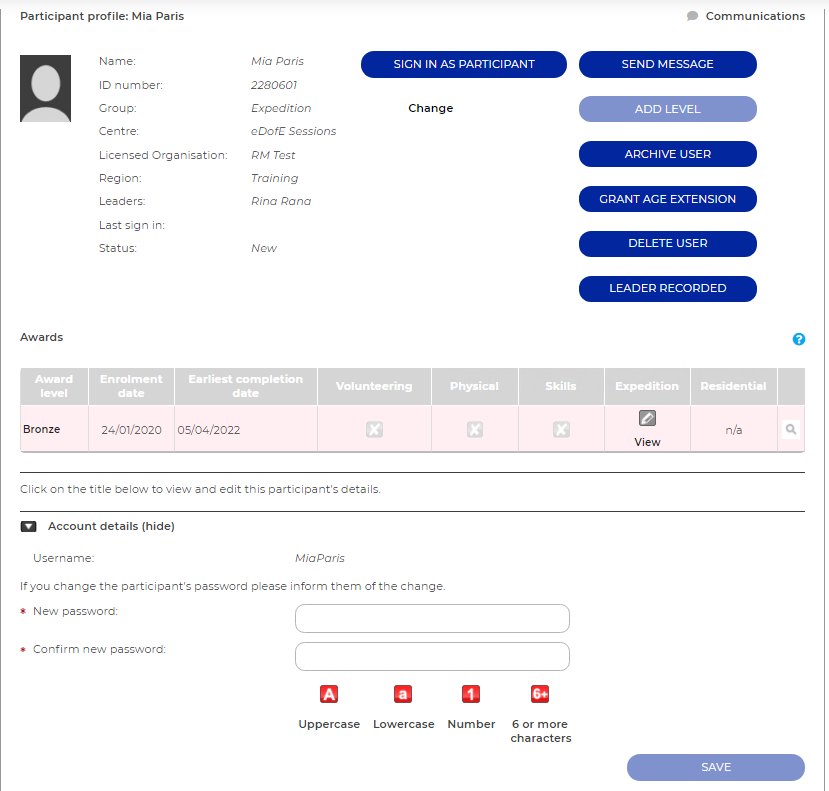 Once the password has been changed, it'll be recorded in the history section:

When a participant logs in using the password set by their DofE leader they will be directed to their Basic information page. They will need to change the password to something memorable for them and complete their basic information.
Should you have any issues please do not hesitate to email us at edofe@dofe.org