Assessors and LO/AAP staff will receive an email 6 months and 3 months before the Assessor's accreditation is due to expire.
Assessors request reaccreditation directly through their eDofE account.
If you have not logged into your eDofE profile in some time, please check that your profile picture will be suitable for your Assessor ID badge and please check that your Contact Details are correct as your ID card will be posted to the address listed here.
Assessors requesting reaccreditation
1. Log in to eDofE and go to Training > My expedition assessor accreditation and click 'Request reaccreditation':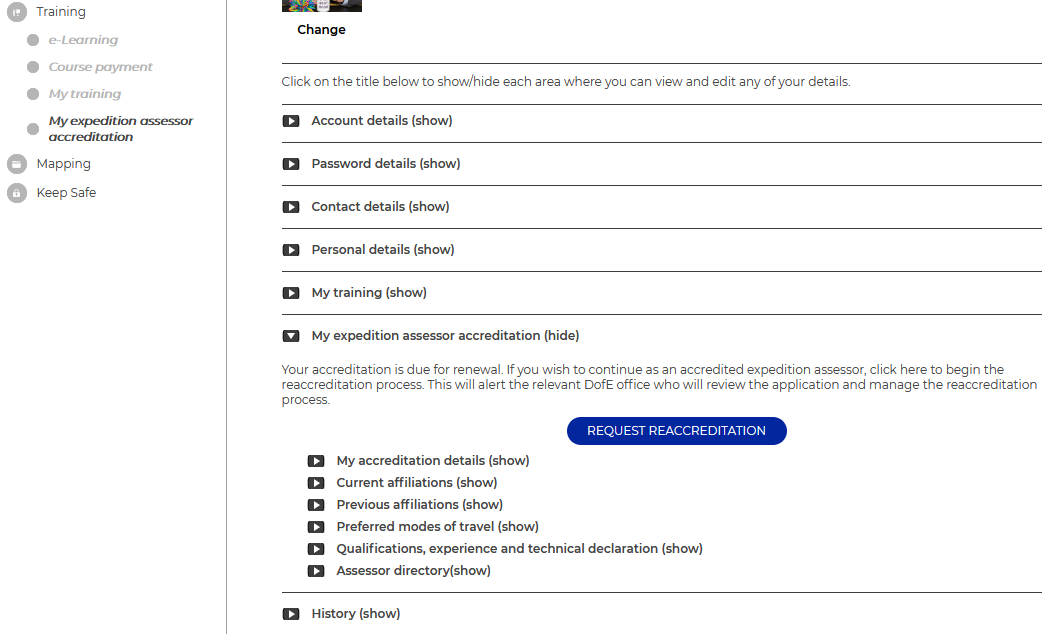 If you don't have the "Request reaccreditation" button, please check the following subsections of your expedition assessor accreditation.
Current affiliations - All Assessors must have at least one current affiliation on eDofE. If you do not have any current affiliations listed, please speak to your Licensed Organisation/Approved Activity Provider Manager and ask them to register you on eDofE:
Qualifications, experience and technical declaration - This includes some important declarations to confirm, and also the information provided in this section will form part of your public profile on the Assessor Directory if you are open to being contacted by other organisations. Please ensure this has saved before submitting your request.
Assessor Directory - Please set your Assessor Directory preferences, these can be changed at any time. More information on the Assessor Directory is available here: Assessor Directory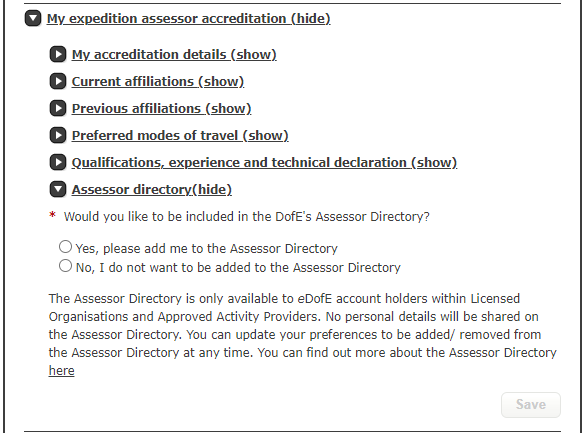 2. Enter the number of assessments/supervisions that you have undertaken each year over the last 5 years and click 'Request reaccreditation'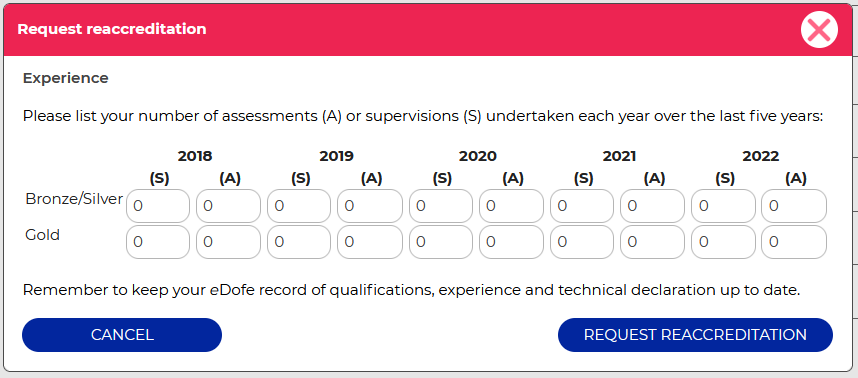 3. You will then see a green banner notifying you that your request has been submitted.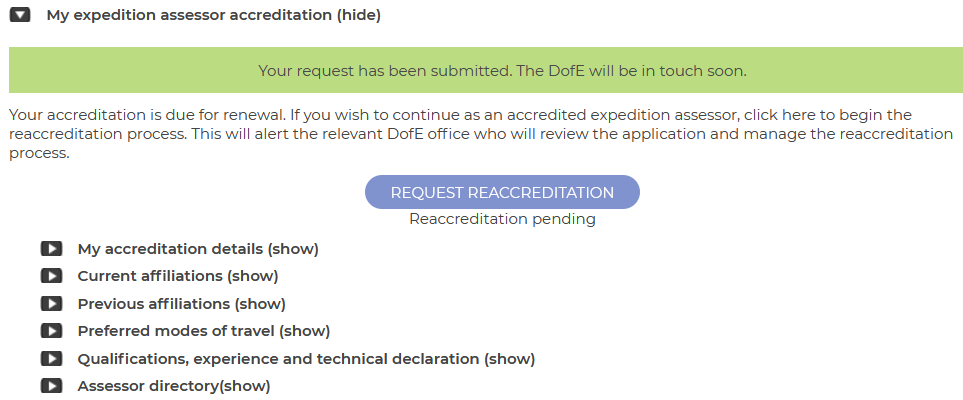 This will then be sent to the Accreditation Team who will review your application and reaccredit you. You will receive an email with the outcome of your request.
4. Once reaccredited, please ensure that any LOs/AAPs with which you are registered "Reapprove" you to assess. This ensures that their registration with you is also renewed for your new accreditation period. If they do not Reapprove you to assess, their registration with you will automatically end on your original expiry date. Information on how they can do this can be found here:
How does an LO reapprove an Assessor to assess?
How does an AAP reapprove an Assessor to assess?
Rejected reaccreditation requests
Your request for reaccreditation may be rejected if:
You have not assessed regularly over your previous accreditation period or further information is required on your assessing activities.
You are missing information on your profile such as a suitable photo or your Qualifications, experience and technical declarations are empty.
Your only current affiliation is a Licensed Organisation or Approved Activity Provider that is no longer licensed.
Please see the Step-by-Step guide on the Route to Reaccreditation for more information on the full process and Guidance on reaccreditation of Expedition Assessors.
To discuss your Reaccreditation application further, or to provide more information please email Accreditation@DofE.org
Should you have any technical issues, please email edofe@DofE.org