You can view your assessor accreditation record via 'Training > My Expedition Assessor Accreditation' or via 'View/edit my profile > My Expedition Assessor Accreditation'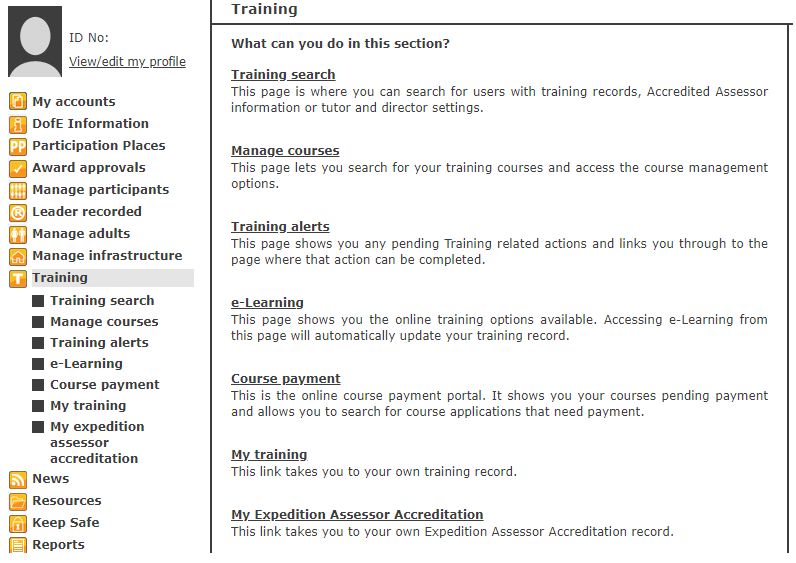 Assessors have the ability to:
Update their contact details
Access OS Mapping
View their accreditation and affiliation details
End their affiliations
Request re-accreditation
Opt in/out of the assessor directory
Accreditation
To become an accredited assessor, you will need to:
1. Complete the following steps via My Training > My expedition assessor accreditation.
As each step is completed, a green tick will appear next to it.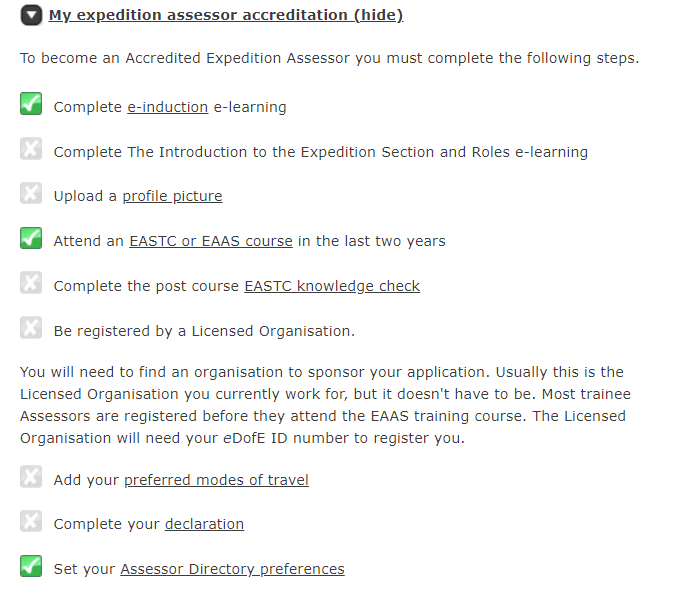 2. Once you've completed the steps, you will see a button to 'Request accreditation'

3. Your application will then be sent straight to your primary affiliation for approval.
4. Once your primary affiliation has approved your application, it will be sent to your Regional Office for approval.
You will receive an email once you've been accredited.
To find out more about the assessor accreditation process, click here
Re-accreditation
If your accreditation is due to expire in 6 months, you will receive an email notifying you of this. You can request that your accreditation be renewed by going to 'My expedition assessor accreditation' and clicking the 'Request re-accreditation' button. This will send an alert to your regional office/contact and they will review/renew your accreditation
If you cannot see a 'Request re-accreditation' button, it can be activated by updating your Assessor Directory preferences. For more information on the Assessor Directory, please see here

Should you have any issues, please don't hesitate to email us at edofe@dofe.org