To use this functionality on eDofE, you'll need to print on our new-style certificates. Before you order any blank copies from ASL, don't forget to do a test run on a plain piece of A4. This will allow you to see what the new design looks like and ensure that the alignment is set up correctly on your printer.
Who can print certificates?
DofE Leaders, Administrators, Managers and Head office staff with the permission 'Can download personal information to CSV files' can print Bronze and Silver Award certificates via eDofE. Helper and ASL account holders don't have access to the functionality to print these certificates.
Where can I print certificates?
1. Award Approvals> Approved Awards
You can print certificates via 'Award Approvals' from the left-hand menu and under 'Approved Awards'.

You can filter the participants by using the Location, Levels and Period filters.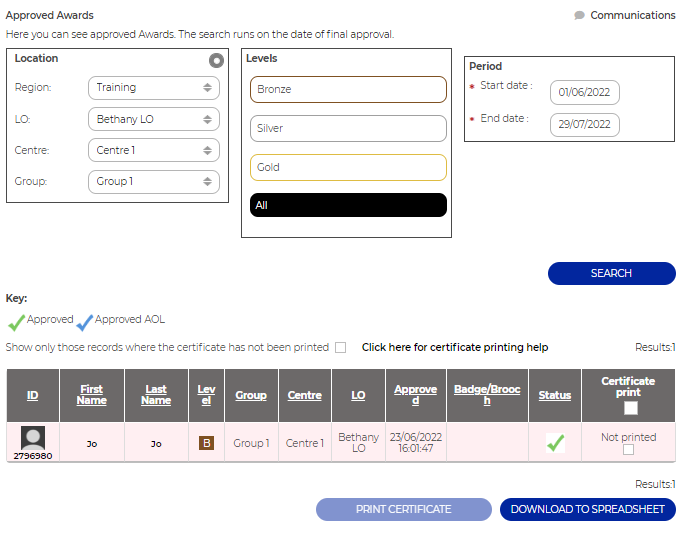 How do I print certificates?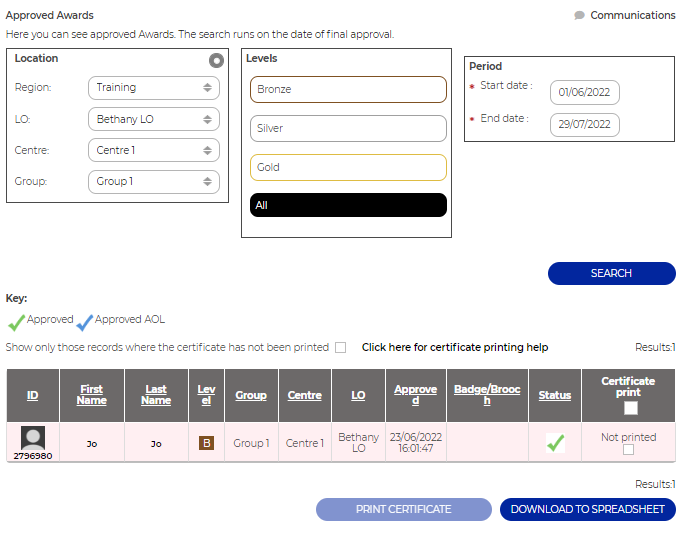 Choose the certificate(s) you want to print.
You can select the tick boxes individually, select more than one tick box to print multiple certificates or select the tick box at the top of the column to select all the certificates available to print.
By default, all records which match your search criteria are shown on screen. If you want to see only those Awards for which a certificate hasn't yet been printed, you can do this by ticking the 'Show only those records where the certificate has not been printed' box.
Click the 'Print Certificate' button at the bottom of the page.
A PDF of your chosen certificate(s) will be downloaded on your computer. Please note: the downloaded document depends on the format you've chosen to use on your computer. It would be best to use a PDF format.
Print your certificates onto the certificate templates (these can be ordered through 'DofE Essentials' on eDofE by DofE Managers and Administrators who have the permission to purchase restricted products).
Why can't I see the 'Print Certificate' or 'Download to spreadsheet' button?
You won't be able to see these two buttons if you don't have the 'Can download personal information to CSV files' permission applied. If you don't have this permission and need it, you will need to speak to your DofE Manager.
You can only print 50 certificates at one time. If you have selected more than 50, the 'Print certificate' button will be greyed out.
Additional notes:
'Not printed' showing in the 'Certificate print' column: the certificate hasn't been printed before.
A date showing in the 'Certificate print' column: the date the certificate was last printed.
Gold certificates cannot be printed through eDofE. These will be presented to the young person at a national Gold Award Presentation or posted to their home address.
Printing tips
Make sure that your printer is set to 'Actual size', not 'Fit to page' or any other sizing option.
Depending on the type of printer you have, if you see any tabs that say you can print on both sides of the paper, please select this option. This will ensure that the young person's information prints on both sides of the certificate.
If you don't have the option to select 'two-sided printing', you will have to manually turn the certificates to print on both sides:
Step 1 – Please insert the certificate facing downwards. This will print the name, eDofE ID number and the date on the front side of the certificate.
Step 2 – Insert the back side of the certificate facing downwards. This will print the participant's activity information.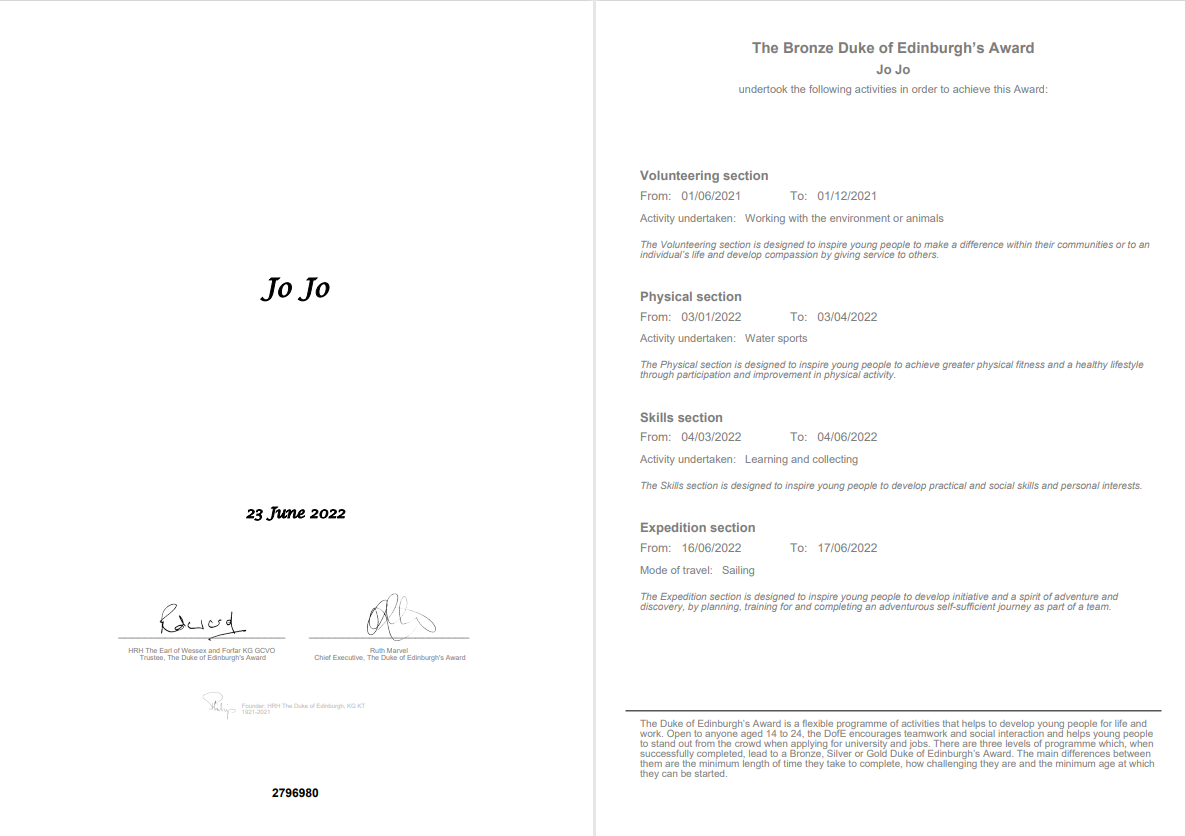 Should you have any issues, please don't hesitate to email us at edofe@dofe.org