What is 'Leader Recorded'?
To ensure the DofE is accessible to all, functionality has been developed on eDofE to allow Leaders to input data on behalf of participants who are unable to engage fully in the system.
This includes those who have special educational needs or are in a secure establishment and therefore unable to access the internet i.e. youth offenders institute.
As a Leader/adult, how do I get the 'Leader Recorded' function?
Groups, Centres and Licensed Organisations can apply for permission to use the functionality known as 'Leader Recorded' by contacting either their Regional Administrator or their Regional Office.
The permission can be applied to individual participants or to a DofE group and specific adults who work with them. eDofE will then allow an adult with the functionality to access a 'Leader Recorded' participant account via their own adult account and have the full functionality that the participant would have.
They will also be able to perform some mass actions on selected participant accounts that currently only the participant themselves can undertake.
You can find Leader recorded on your left-hand menu and there are 4 subgroups under Leader recorded.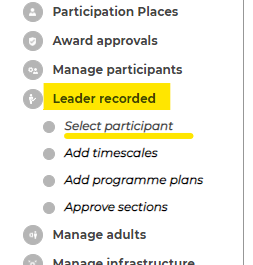 Select participant-You can see an overview of participants eligible for Leader Recorded functionality and select an individual to update.
Add timescales-You can select the timescales for multiple participants at the same time.
Add programme plans-You can complete the programme plans for multiple participants doing the same activity for a section. You can also set the aim and goals for the qualifying expedition.
Approve sections- You can mass approve any section for multiple participants where all of the requirements have been met.
Select Participant
You can find your participants using the Location, Subgroups, User details and Levels filter.
Archived or Deleted user/Award statuses cannot be searched.
If the account is new and has not been accessed before, you must complete the mandatory fields (such as address, emergency contact, new password, and so on) in each of the participants' accounts before being able to add mass actions (see the 'Individual participant' section of this guide).
Similarly, if a participant account has 'Inactive' status, you will have to log in & update their basic information before being able to add anything else.
Selecting the key icon will sign you in to the participant's account as the participant.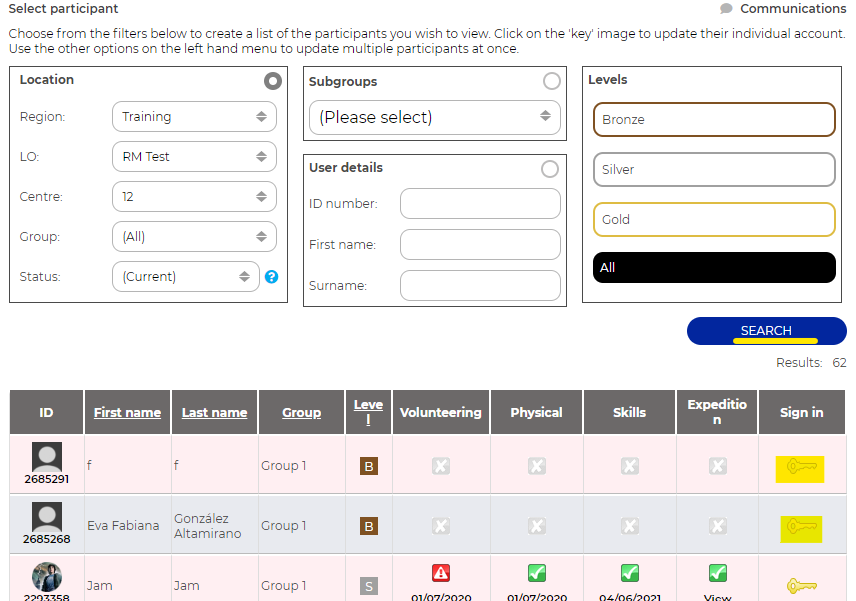 Once you have logged in to their account, you can add the participant's timescales. To do this, click the pop-up message.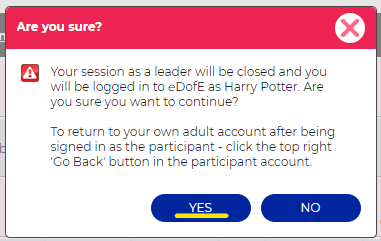 You will then be taken to the 'Overall timescales' tab at the top of the screen.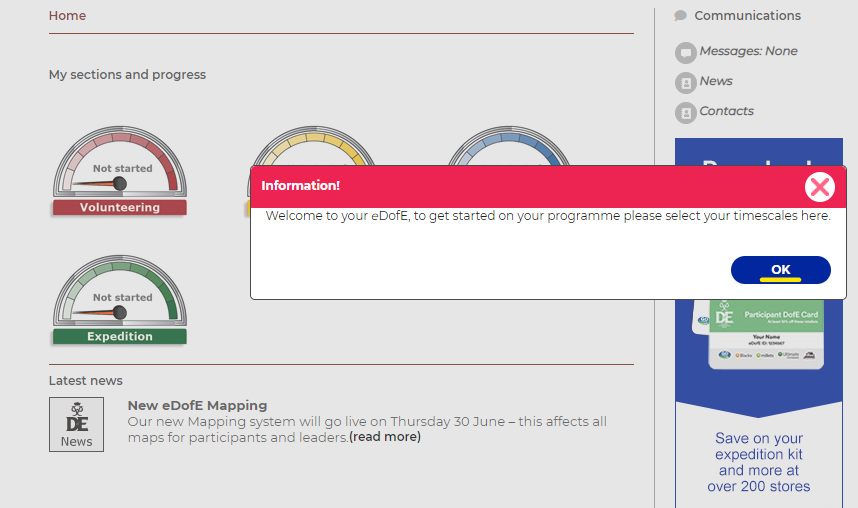 Add timescales
You can add timescales to multiple participants through the 'Add timescales' option back on the left hand menu on YOUR profile.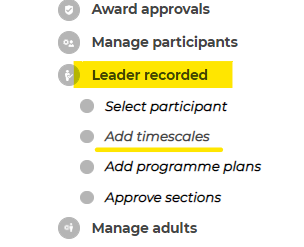 You will need to select the award level, whether they are a direct entrant or not and then select a timescale.
Note: Not Direct and Direct are not displayed for Bronze level Awards.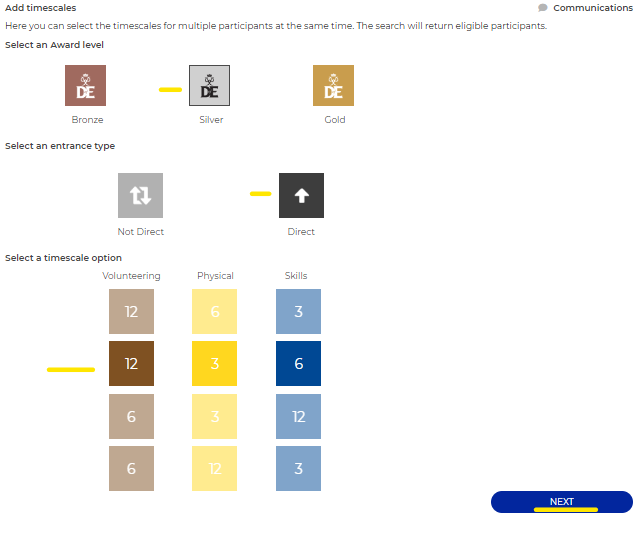 You will then see a list of participants who you can add the award and timescales to. Select the participants you wish to add to and then select 'Add timescales'.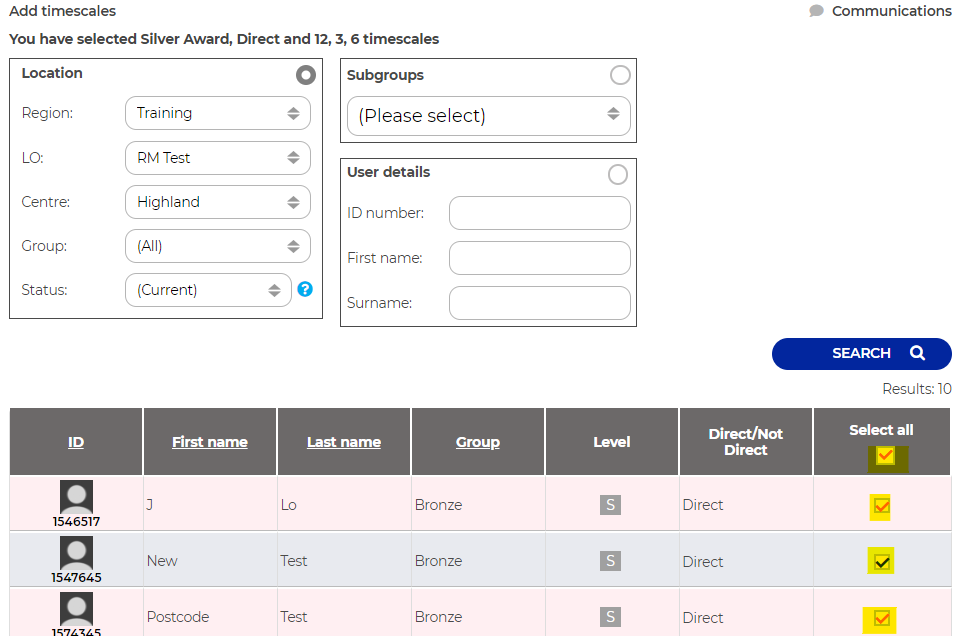 You will see a green notification banner at the top of your page when you scroll up, once the timescales have successfully been set.

Add programme plans
To add a programme plan for participants, you start by selecting the section you wish to add to the participants account.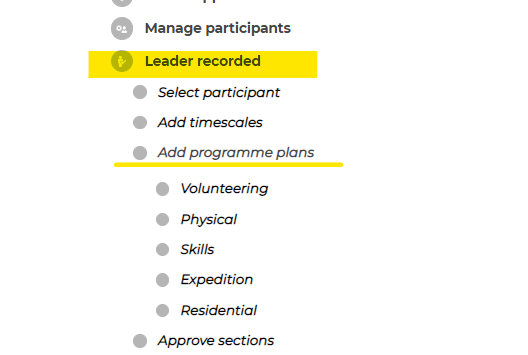 Once you have completed the relevant fields, click on the 'Next' button. All fields marked with a red asterisk must be completed before clicking NEXT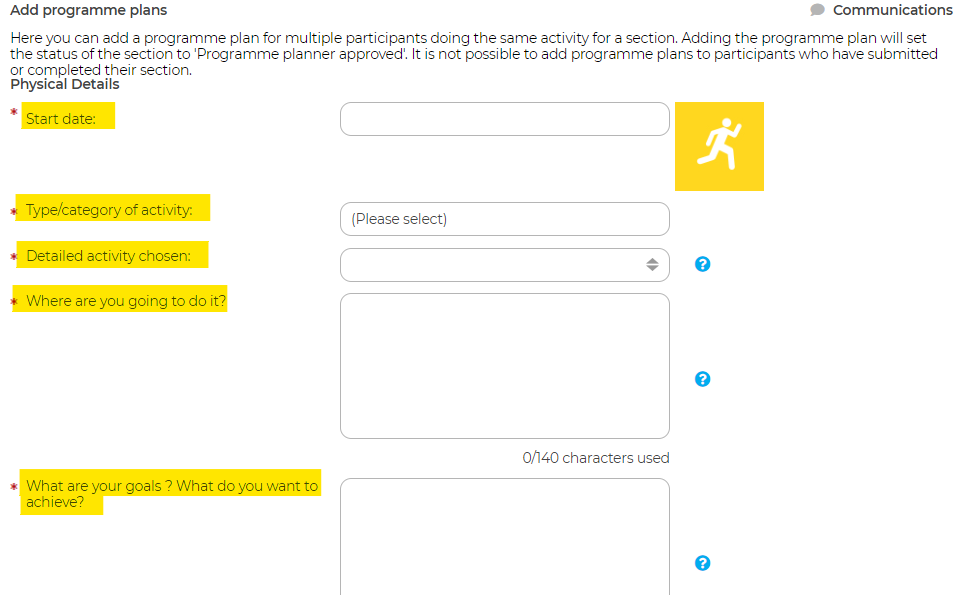 You can now use the location box to select a group or use the filter to list participants. Select the relevant participants and click 'Add plan' button at the very bottom of the list of names.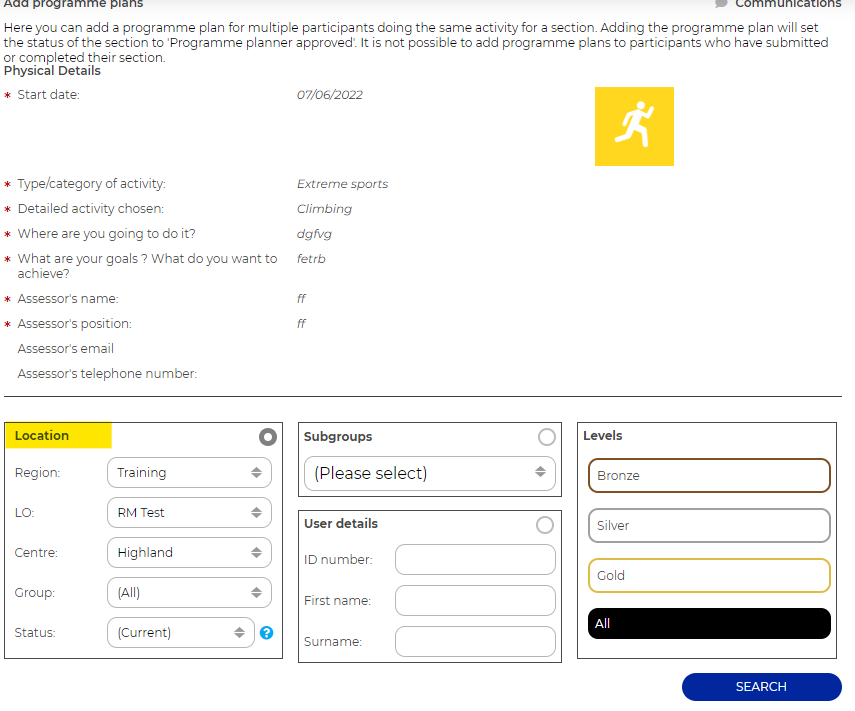 Remember, if an individual or group isn't tagged for 'Leader Recorded' or the section start date you entered is too early, then you won't be able to add information for these participants.
Please be aware that this function will allow you to overwrite information for a participant.
Once the programme has been submitted you will see the confirmation message on a green banner.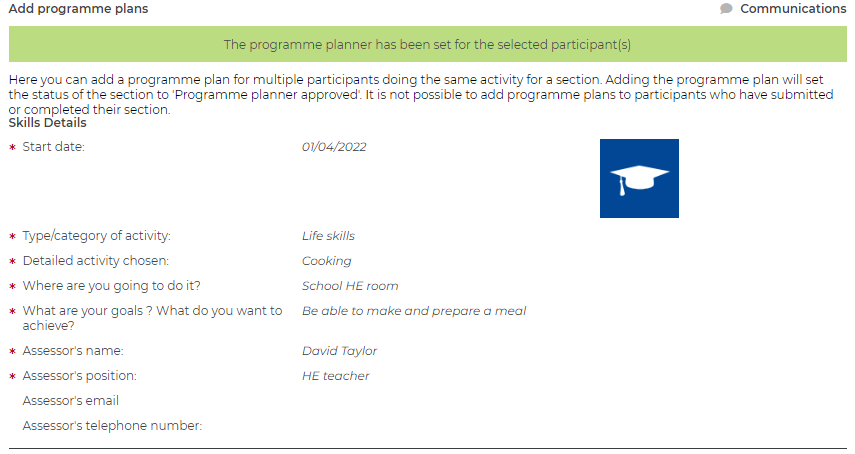 Approve Sections
As a Leader with a 'Leader Recorded' group, you may have entered the same sectional details into the accounts of several participants. This functionality enables you to mass approve selected sections from one screen, rather than manually having to go into each participant's account to approve them.
Note: This works in the same way as the directly approve function, where you can approve sections even if they are in draft/just submitted as long as the programme planner and Assessor's report are in place and the minimum timescales have been reached.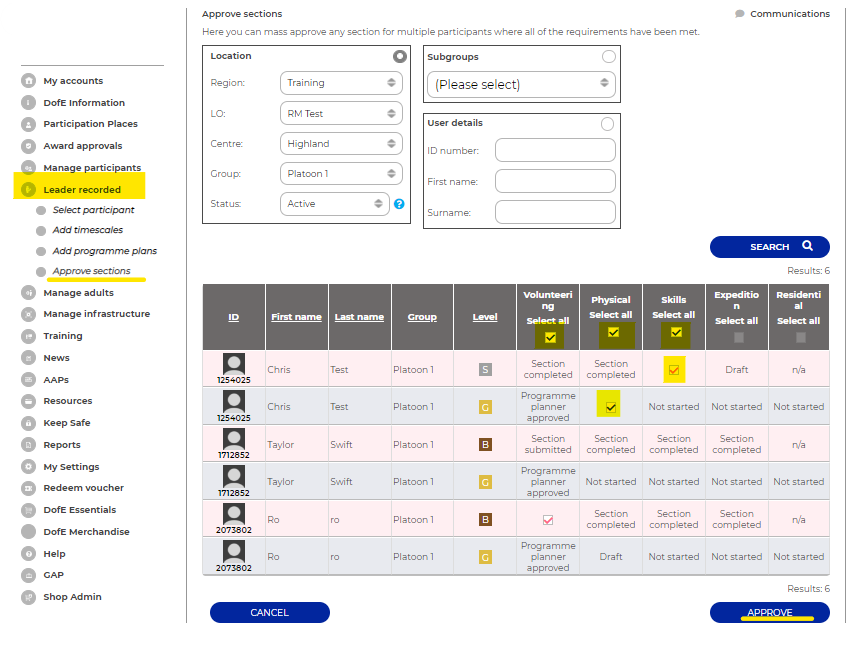 For more information please follow the instructional video- eDofE Leader recorded
Should you have any issues, please don't hesitate to email us at edofe@dofe.org