Last Edited: July 2023
What is the Directly Approve screen?
This screen allows adults to see and approve a participant's section that has:
All mandatory information fields completed
The activity end date (or section earliest completion date) is today or has passed
An assessors report has been uploaded and marked accordingly
If all the above information has been entered, an adult can approve the section without the participant needing to submit it for approval.
How do I access the Directly Approve screen?
The Directly Approve screen is only available to adult accounts, and there are a couple of different ways that the Directly Approve screen can be accessed:
All accounts can access Directly Approve this way:
On the left-hand menu, click on 'Manage Participants'.
Then click on 'Directly Approve'.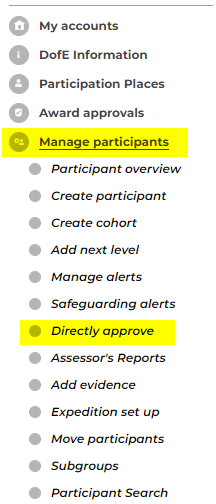 Leaders and Coordinators can also access it this way
Head over to the Communications section on the right-hand side.
Find the link for 'Directly Approve'.
If it says 'Yes', there are participants that can be directly approved.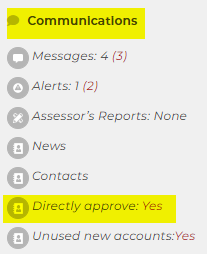 What can I sign off from the 'Directly Approve' screen?
If you have an Administrator, Primary Administrator or Manager account, you can choose to look at a specific group or alternatively all the groups within a centre. You will then be able to approve a section that is in 'Draft', ' Programme planner submitted' or 'Programme planner approved' that has all of the mandatory information, an assessor's report and where the timescales have elapsed.

If you have a Leader or Coordinator account, you will not have the option to choose a group, instead the page will display participants that can be directly approved for all of the groups that you are a leader for.

I can't sign off a participant's last Gold section - it says something about a GAP application?
A participant must complete their GAP application before their award can be signed off. A participant can choose if and where they would like to attend an presentation and if they would like to choose to receive a badge or a brooch. If a participant hasn't completed their GAP application, you will see a message in red text and the participant will need to complete this before you can approve the last section.

Should you have any issues, please don't hesitate to email us at edofe@dofe.org